​Top Doors For The Kawasaki Mule, Teryx, And KRX
Oct 30, 2021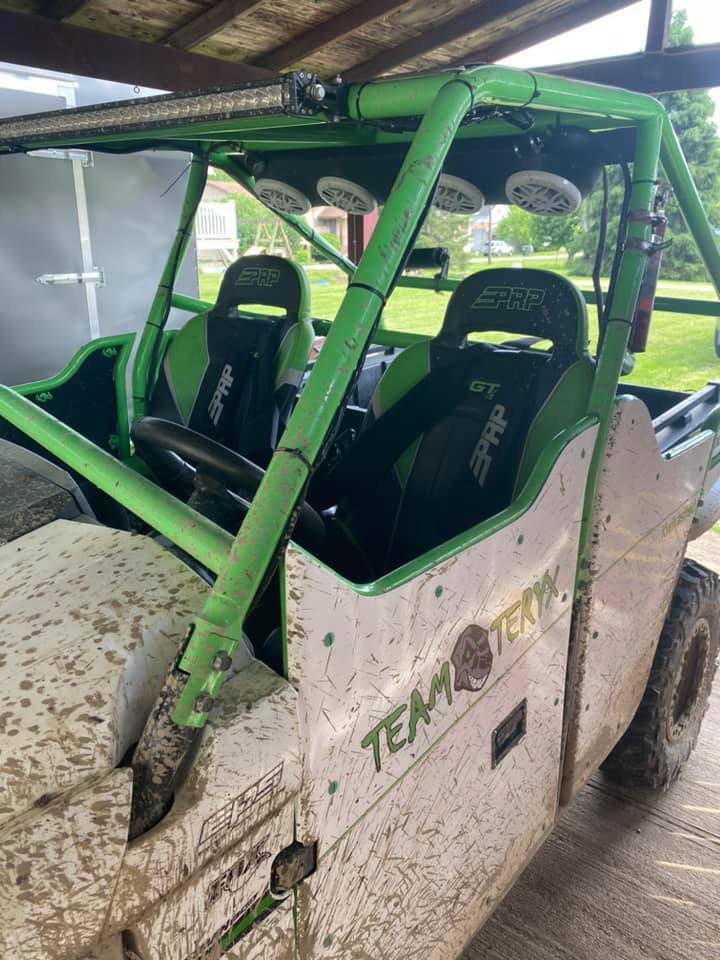 If you're conducting work around your farm, ranch, or homestead that requires you to enter and exit your side-by-side with frequent regularity, opening and closing your machine's the doors every time you stop to do something can become a massive inconvenience. In almost every other situation, however, Kawasaki Mule doors, Kawasaki Teryx doors, and Kawasaki KRX doors will enhance your off-road experience more than they detract from it. That being said, not all door brands for Kawasaki UTVs are cut from the same cloth. Furthermore, different styles of Kawasaki UTV doors are more suitable for specific environments and applications over others. While a set of full Kawasaki Mule soft doors would be perfect for those who ride during winter, a product like the Kawasaki KRX mesh window nets by PRP would be more appropriate for dune riding in a hot desert locations.
By taking factors like these into consideration, we've been able to hone in on the best doors for Kawasaki UTVs. There are common attributes -- such as rigidity, closeability, and durability -- that all of the best Kawasaki Mule, Teryx, and KRX doors have in common. Nevertheless, some doors for Kawasaki UTVs are more advantageous than others for particular environments, use cases, and applications. So, finally, here are our pics for the top Kawasaki Mule doors, the top Kawasaki Teryx doors, and the top Kawasaki KRX doors!
Top Doors For The Kawasaki Mule
Whether you're after a set of hard doors for your Mule Pro FXT or some soft doors with zip-down windows for your Mule 4000 / 4010, the environment where you ride will have a huge influence on the best UTV doors for you. While half Kawasaki Mule doors are great during summer, for cold-weather riding, you'll be astonished by the difference a set of full Kawasaki Mule doors can make.
Many riders have great things to say about the hard Kawasaki Mule doors by SuperATV. These see-through doors are constructed using quarter-inch, high-strength polycarbonate wrapped inside a steel frame. This not only makes the doors incredibly strong, but also practical for situations where increased visibility is preferred. The scratch-resistant polycarbonate material that SuperATV uses to make their Kawasaki Mule doors is slightly tinted to reduce glare, and the doors have built-in mounts for side mirrors so you can better gauge the goings-on behind you.
One caveat with the Kawasaki Mule door kits by SuperATV is that they don't include windows that open / close. Although they don't fog up during winter, the Kawasaki Mule doors by SATV can make your cab a bit stifling in the summer if you don't have a vented, half, or folding windshield. So if you're after some full Kawasaki Mule doors with slide-open windows, the options by DFK Cab Enclosures are the ticket.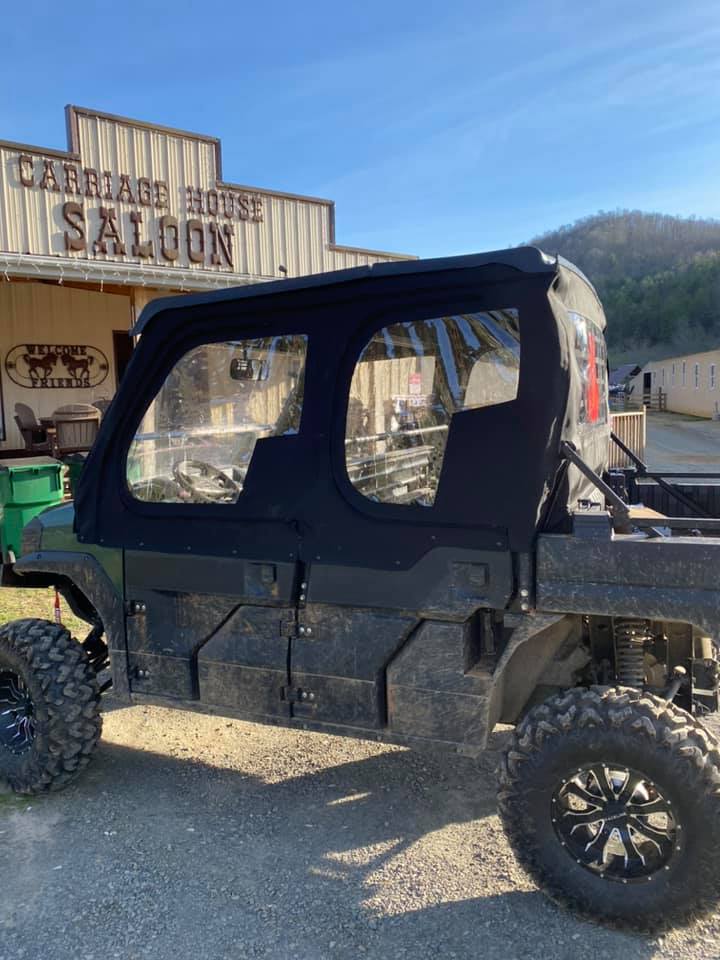 The Kawasaki Mule doors by DFK are quite similar to the Kawasaki Mule doors by SuperATV. They're weather tight, lockable, and perfect for cold-weather riding. The key difference, however, is that the DFK doors include slidable tempered glass windows on both the driver side and passenger side that can be either opened for more airflow, or latched closed to trap in heat and prevent dust, mud, and rain from getting inside the cab.
Another popular door brand for the Kawasaki Mule is Curtis Industries. Although they're more focused on providing complete Kawasaki Mule cab enclosure kits rather than doors specifically, the doors included with their soft and hard cab enclosures are super robust and exceptionally well-made. Yes they're expensive, but if you're looking for a top-of-the-line product that'll deliver comfort, protection, and satisfaction, a Curtis Cab could be a good fit for you and your Mule!!
While hard Kawasaki Mule doors are an excellent choice for some riding environments, they are typically more expensive than soft Kawasaki Mule doors. So if you're on a fixed budget and looking to stretch your dollar as far as it'll go, we'd suggest the marine-grade polyester doors by GCL UTV. These soft Kawasaki Mule doors are resistant to tears and punctures, and include features such as 30-gauge vinyl windows with YKK zippers that can be quickly zipped and unzipped at your discretion.
Top Doors For The Kawasaki Teryx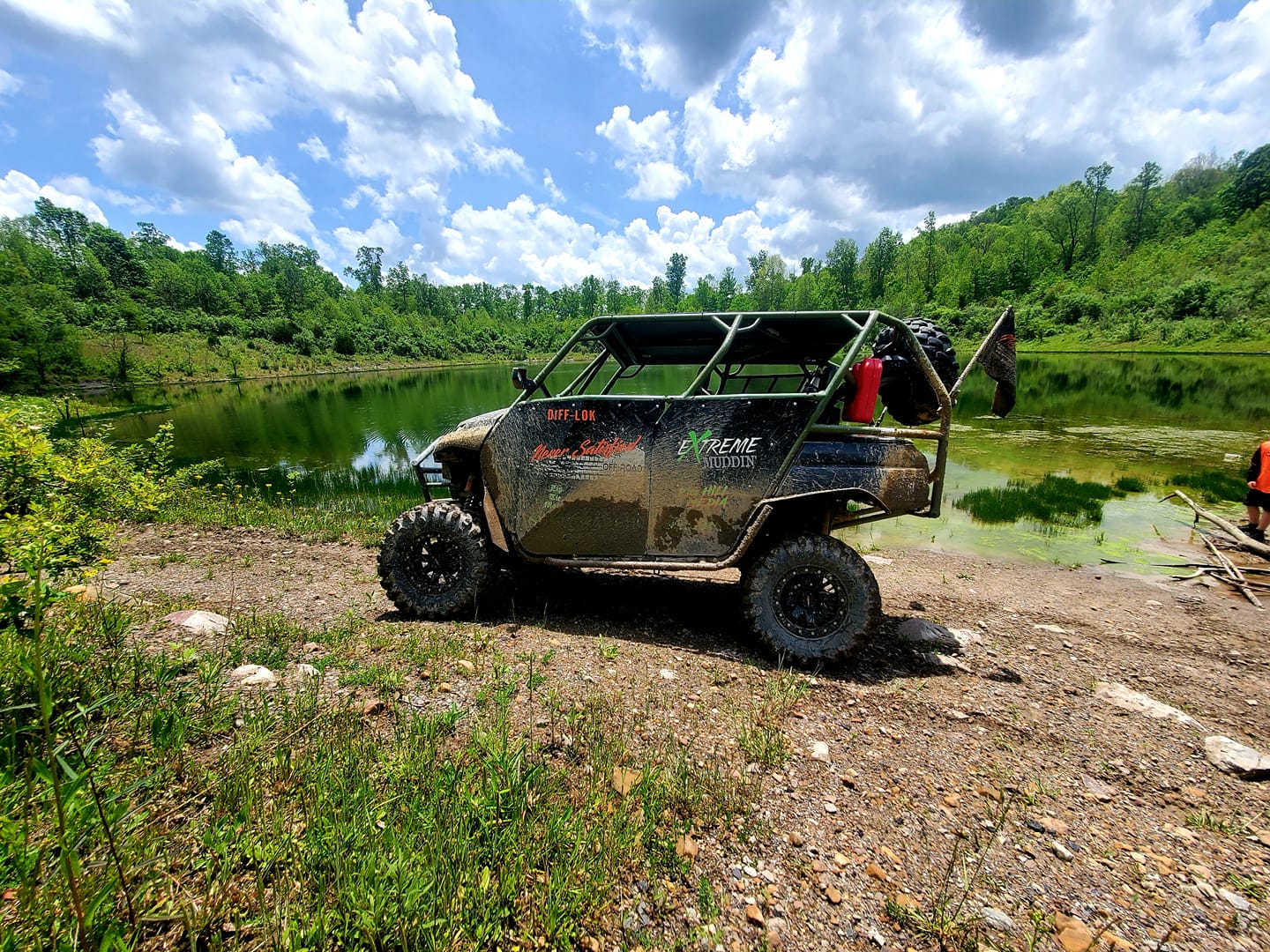 Like with the Mule, there are various hard door and soft door options available for the Kawasaki Teryx. But with a Teryx, you must consider whether you want upper Kawasaki Teryx doors, lower Kawasaki Teryx doors, Kawasaki Teryx door extensions, or a full-blown Kawasaki Teryx cab enclosure.
While some riders choose to go with factory Kawasaki Teryx full doors, the OEM doors require you to run the factory soft top as well due to the way the doors attach to the vehicle's frame. If you're feeling like a project, you can modify your factory doors and aftermarket hard-top so that everything mounts properly, but the problem doesn't end there. With some configurations of factory doors and aftermarket roofs, further modifications are needed to facilitate the use of a folding windshield.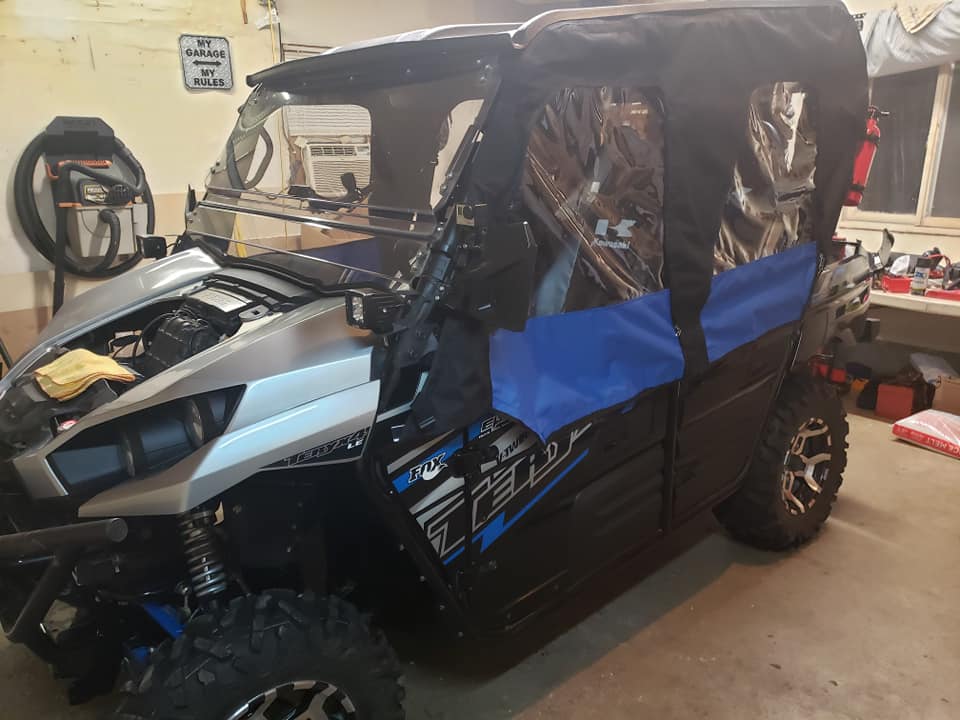 When choosing between top doors for the Kawasaki Teryx, convenience and ease-of-use are key determinants. Some of the soft Kawasaki Teryx doors and cab enclosures out there must be zipped and unzipped before riders can enter or exit the machine. But with the soft upper Kawasaki Teryx doors by Greene Mountain Outdoors, you get a product that functions as a single-piece unit so that it opens easily, latches closed securely, and stays closed without shaking or rattling.
Pro Armor used to make arguably the best doors for the Kawasaki Teryx, the Teryx 750, and the Teryx 1000. Unfortunately, the firm stopped manufacturing doors for the Kawasaki Teryx, which left competitors like Trail Armor to fill the void. Where Kawasaki Teryx half doors are concerned, few do it better than Trail Armor. Admittedly, these doors suck during the winter. But if you live and ride in places like Texas, Southern California, Arizona, or Florida, you'll probably want your doors to function more like debris shields and mud guards than accessories to insulate your cab from the cold.
Top Doors For The Kawasaki KRX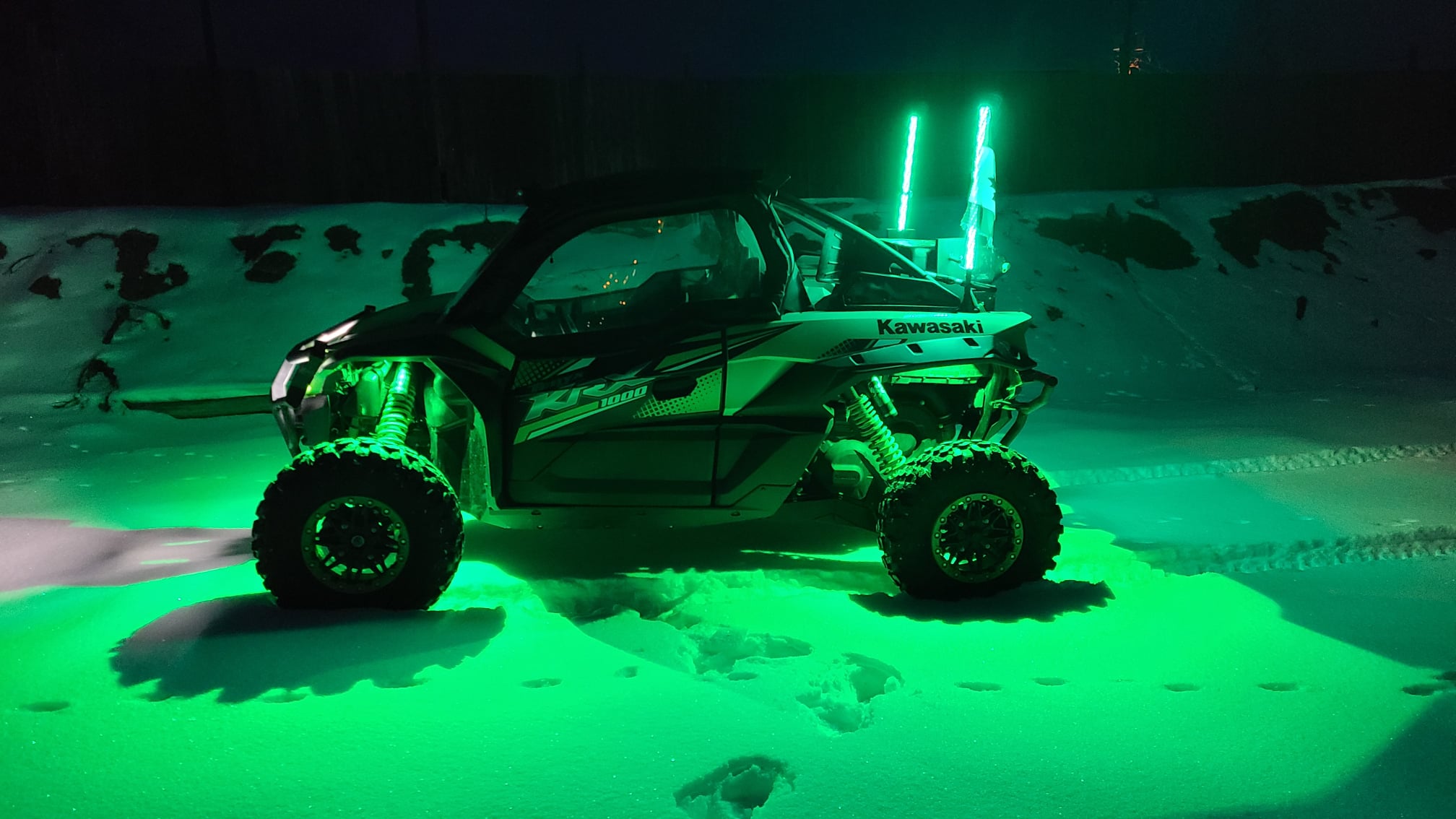 As you might imagine, the qualities that make good Kawasaki Teryx doors are nearly identical to the qualities that make good Kawasaki KRX doors. Enclosure-style door setups for the Kawasaki KRX can also be a pain to zip in and out of -- especially when they're caked with mud. So for this reason, a ton of riders choose to go with upper doors / enclosures for the Kawasaki KRX that open and close simultaneously using a sophisticated lock-and-latch mechanism.
How To Turn Your Existing Doors Into Top Kawasaki Teryx / Mule Doors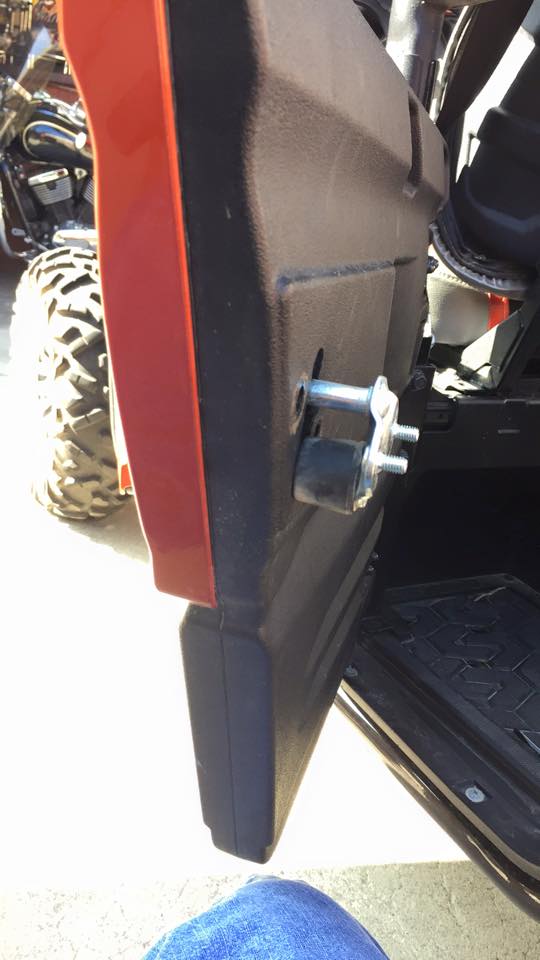 Although the existing doors on your Kawasaki UTV might be misaligned, rattly, or loose-fitting, there are steps you can take to turn them back into top Kawasaki doors. To winterize your doors, you can fill the gaps and cracks around the seams with Kawasaki Mule, Teryx, or KRX weatherstripping kits. And for doors that like to dance around and shake, you can get a replacement door latch like the ones by DragonFire Racing. Finally, for a smooth open-and-close action, you can throw in some long-tube door hinges like the ones by AJK Offroad and get a squeak-free, stick-free, and hassle-free door-using experience!
Final Wrap-up On Kawasaki SxS Doors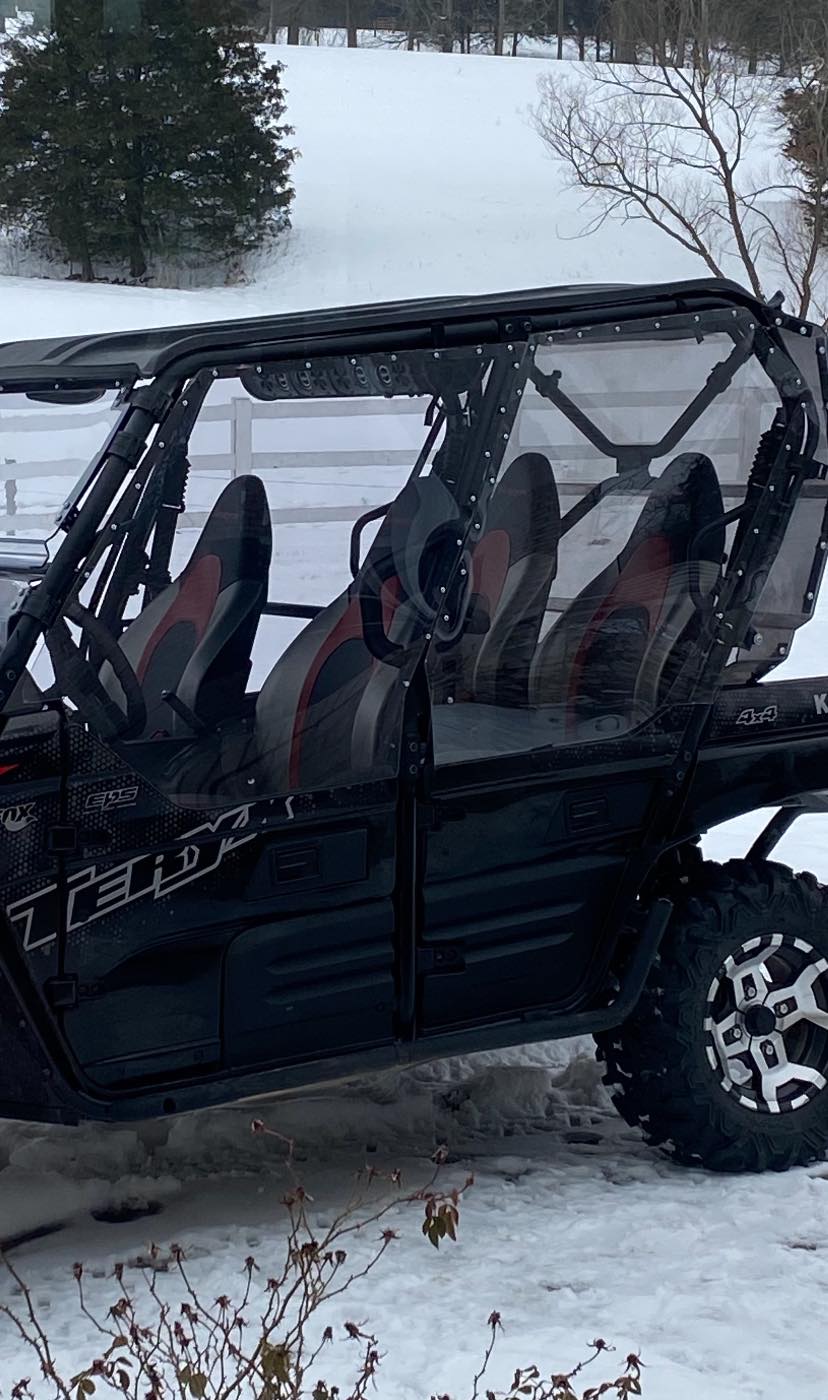 Be it full Kawasaki side-by-side doors and cab enclosure systems that snap, zip, loop, and velcro into place, or aluminum doors for the Kawasaki Teryx, Mule, and KRX that are strong, streamlined, and lightweight, there are many types of doors out there for one to consider. After reading this article, you should now know our synthesis of the top Kawasaki UTV doors. We came to our conclusions through everything from anecdotal evidence and personal trial-and-error to factory testing outcomes and industry R&D results. You can either agree with it or disagree with it, but there it was, our picks for the top Kawasaki Teryx doors, top Kawasaki Mule doors, and top Kawasaki KRX doors on the market today!