Pros And Cons of Owning the Kawasaki Mule, Teryx and KRX 1000!
May 02, 2022
So, you're in the market for a shiny new Kawasaki side-by-side?
I'm sure you are also wondering which one might be the best for you, right? Well, you're in luck! Today we are going to cover the pros and cons of owning a Kawasaki Mule, a Kawasaki Teryx, and a Kawasaki Teryx KRX 1000!
Lets start out with one of the most tried and true utility vehicles out there:
Pros and Cons of the Kawasaki Mule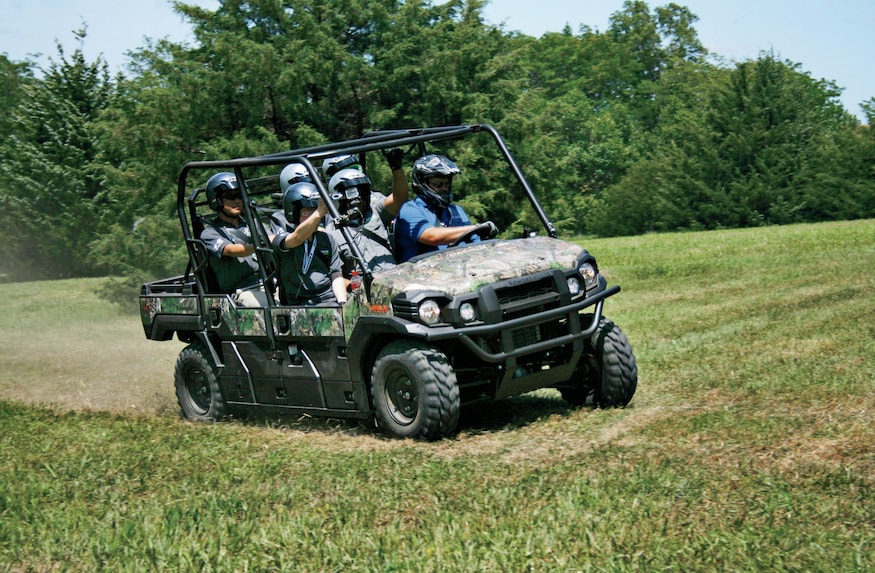 While the Mule is definitely the most utilitarian of Kawasaki's UTV offerings, owners say they use it for both work and fun equally in most cases.
Since models like the Kawasaki Mule Pro FXT can fit up to six adults, you can easily take the whole family on rides and your Kawasaki Mule overlanding and camping. Many owners of a wide variety of Mule trims have written over and over again about the UTV's reliability.
Not only do they seem to rarely run into many issues, but owners also rave about the standard three-year warranty that comes with the Mule. That alone is a key reason to buy in a lot of cases.
What about the downsides of Mule ownership then?
The most common complaint we have found for the Mule is its available power.
Lower trim models feel sluggish getting up to speed, and that top speed is capped at 46mph on many models. Even when not using them as a troop transport for the whole family, owners report a lack of thrill when they slam on the gas pedal. You could potentially remove the speed governor in the ECU, or add a Kawasaki Mule Air Filter by K&N to gain a few horsepower, but that leads us to the next complaint:
A lack of aftermarket parts.
With so many Mules out in the world, you'd think there would be more available performance accessories for them.
But you'd be wrong.
There are tons of other types of parts and accessories, however. Kawasaki Mule lift kits, Audio bars, speakers and stereos, and aftermarket tires galore. But it seems the Mule is behind in the community of aftermarket performance parts such as turbo kits, ECU tuners and aftermarket exhausts to increase horsepower.
So, with performance in mind, let's move on, shall we?
Kawasaki Teryx Pros and Cons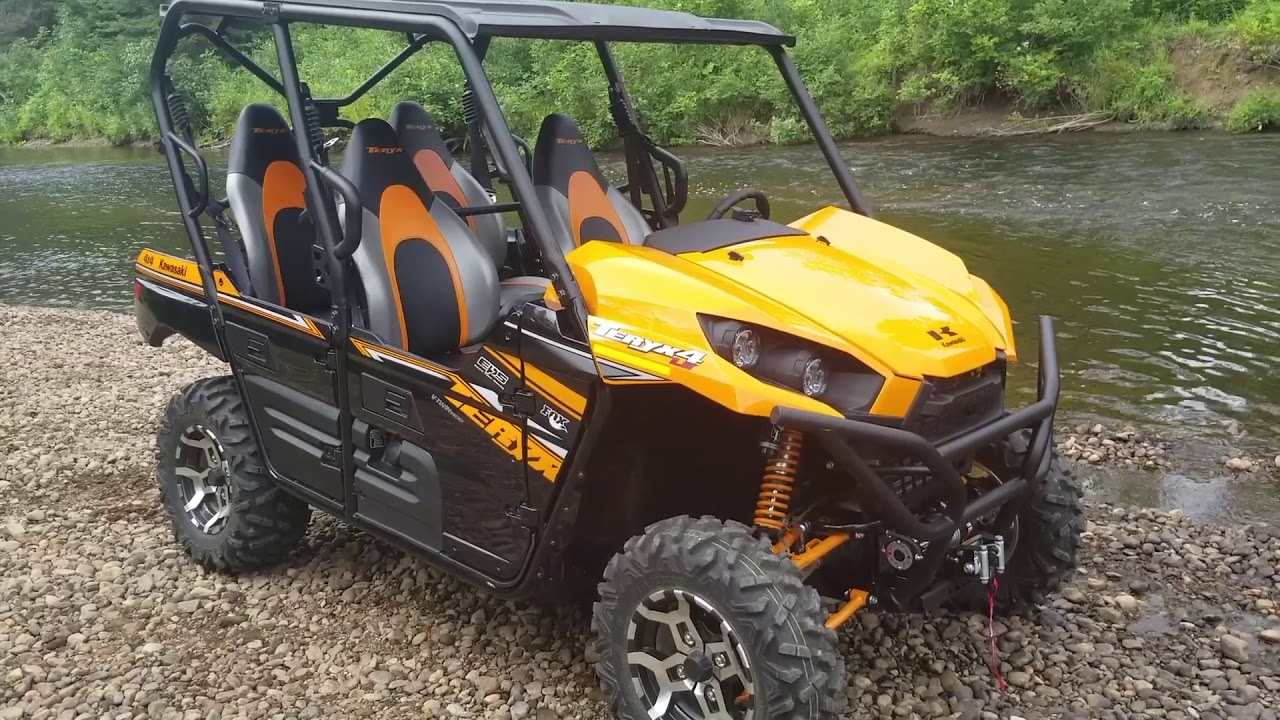 With a higher ground clearance, higher top speed and more power, the Kawasaki Teryx has a lot going for it.
Just like the Mule, the Teryx comes standard with a fantastic three-year warranty -- which most owners say is great to have, but rarely needed to call upon. Over and over owners have said they couldn't believe the high level of quality control evident in the Teryx lineup.
Add to this the ample room inside the cab, and the Teryx is an absolute dream. Even larger people, such as myself coming in at 6'3" and 280 pounds, can ride comfortably all day long inside the cab of a Teryx or Teryx 4-door.
The Not So Great
The Teryx with all of its fun-inducing features, however, does have a few issues we should note.
Engine noise was the most talked about issue we've heard about so far.
Now, I know that may seem like a trivial thing to complain about, but hear me out. Owners report that even with a full-face Kawasaki Teryx helmet on, the noise coming from the engine can become deafening over the course of a full day of riding. Ear fatigue is real, folks! And loud, droning sounds add up quickly for those without proper hearing protection.
Some owners say they successfully added sound dampening material around the cabin, but others that did the same reported no change in volume.
Kawasaki Teryx KRX 1000 Pros and Cons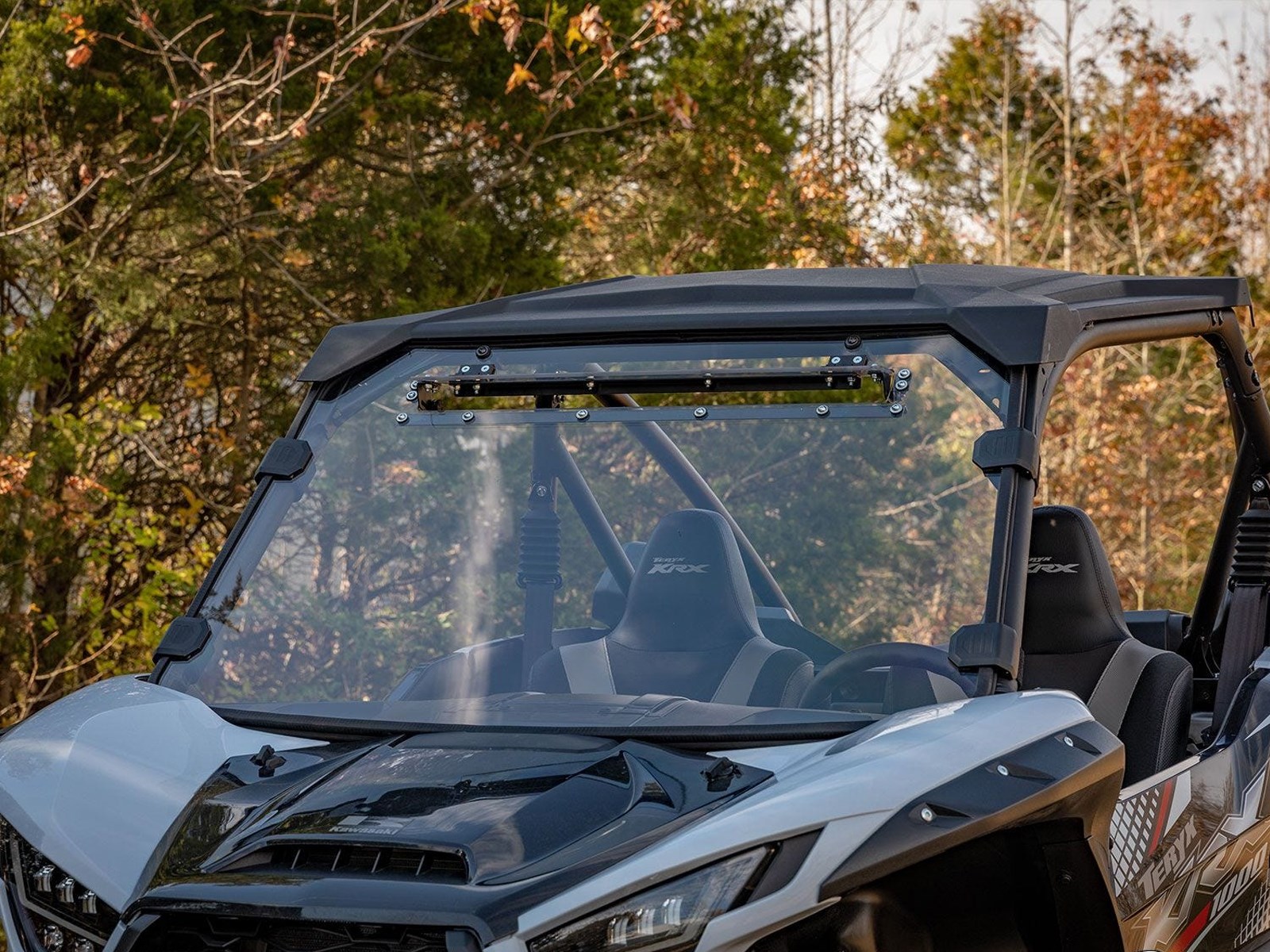 Although it is a Teryx in name, the KRX 1000 is a whole new animal.
With a visibly different build to it, and an obvious focus on speed and power, this side-by-side is a force to be reckoned with. With the KRX 1000 top speed besting its Kawasaki counterparts, there's no question why so many owners choose it.
Compared to its direct competitors like the Can-Am Maverick X3 and Honda Talon 1000, the KRX 1000 holds its own comfortably. In fact, many owners have claimed it to be much more comfortable seating-wise in the cab. Even if you don't like the stock ones, a replacement set of Kawasaki Teryx KRX 1000 seats can be yours in no time.
And behind the seats seems to be where the real magic happens. Many owners are pleasantly surprised at the amount of available cargo space in what seems like Kawasaki's least-utilitarian side-by-side.
Along with everything people love about the regular Teryx showing up in the KRX 1000, it actually has a few downsides of its own.
What's Not to Love?
One seemingly widespread issue with the Kawasaki Teryx KRX 1000 seems to center around the fuel gauge.
Specifically, the fuel gauge seems to be wildly inaccurate. One quick search will net you tons of results of owners reporting their gas gauge showing the tank is empty after around 50 miles. Only for them to go to top it up and realize the tank is still more than half full.
Multiple owners have said that this can possibly be due to a buildup of excess pressure in the tank, and can be alleviated by "burping" the tank. Simply unscrew the gas cap, let the pressure out, and put the gas cap back on again. Your fuel gauge should again be accurate... that is, until the next time pressure builds up!
It also seems that the UTV ships sans-windshield.
Now, this has become a pretty important and popular mod in the aftermarket parts scene, so it is very easy to find a great Kawasaki Teryx KRX 1000 Windshield. But the owners gripe is that for the price, they feel the UTV should come with one standard.
And most would agree with that desire. So much so, that we actually wrote up a great Kawasaki UTV windshield buyers guide to make the search easier too.
Lastly, just like the regular Teryx models, the KRX 1000 is reported to have a deafeningly loud engine noise while riding in the cab, and an unnaturally high placement of the foot pedals. This can lead to discomfort over the course of long day rides, and may be a deal breaker for some.
All we know, is that even with all of the cons of ownership we've listed today, Kawasaki Mule, Teryx and KRX 1000 riders still love their side-by-sides!