​Top Three Winches For The Kawasaki Teryx, Kawasaki Mule, And Kawasaki KRX
Sep 30, 2021

Side-by-side winches are an essential part of offroading, and even if you'veinstalled bigger tires with gnarly tread to keep your rig from becoming stuck, there are plenty of applications aside from recovery where Kawasaki UTV winches prove useful. You can use a winch to operate a snow plow during winter, or use a winch with a hitch-mounted hoist to dress game during hunting season. But with so many winch brands out there, it can be hard to compare and contrast them all.
No matter what uses you have in mind for your Kawasaki Mule winch, Kawasaki Teryx winch, or Kawasaki KRX winch, you'll want a winch that can handle the task at hand without burning up, blowing fuses, or stripping gears. If you ride with friends, something as simple as a tow rope can be used to extract your rig when it becomes stuck. However, if you aren't a fan of eating mud, winches will provide a cleaner, easier, and safer method of recovery. Some riders argue that the best winch for a Kawasaki UTV will depend on your wallet. But we here at Everything Kawasaki Offroad don't subscribe to this line of thought. We've seen firsthand that there are great winches out there that don't cost an arm and a leg, and the top three Kawasaki UTV winches we've identified will work exceptionally well regardless of how, why, or where you deploy them!
The Black Ops Winch By SuperATV
SuperATV makes a variety of aftermarket accessories for the Kawasaki Mule, Teryx, and KRX. And like their windshields, tires, mirrors, and bumpers, the Kawasaki UTV winches by SuperATV are affordable, reliable, and tough as nails.
For those with smaller compact machines like the Mule SX, the Mule 4000 / 4010, or the Mule Pro MX, a 3,500 Lb Black Ops winch should suffice. But if you've got a Teryx 4 or KRX that's used primarily for mud, you'll never find yourself in an irrecoverable situation with a 6,000 Lb Black Ops winch attached to your rig.
One benifit to a SuperATV Black Ops winch is its synthetic line. Rope winch lines are just as strong as steel-wire winch lines, but at the same time they're significantly lighter. Furthermore synthetic lines don't fray as they age, so you'll never have to worry about catching a metal shard to the palm while handling a synthetic winch line.
In addition to being capable, resilient, and safe, Black Ops winches are also super simple to both set up and use. SuperATV winch kits come with wired-in rocker switches for the dash, and wireless remotes that are resistant to shock, water, and dust. In this way, you can operate the winch both inside the vehicle and from the outside.
Other characteristics of Black Ops winches that set them apart from the competition are their fairlead holders, winch hook kits, and rope stoppers. With a fairlead holder, you'll have the ability to winch in any direction without snagging, jamming, or tangling the winch line, and with a winch stopper, you'll be able to avoid over-drawing the winch line -- which can cause serious damage to the winch drum. Plus, because Black Ops winches come with a hook holder, the end of your line won't dangle down or bounce around when you're traversing bumpy terrain!
The Assault Series Winch By KFI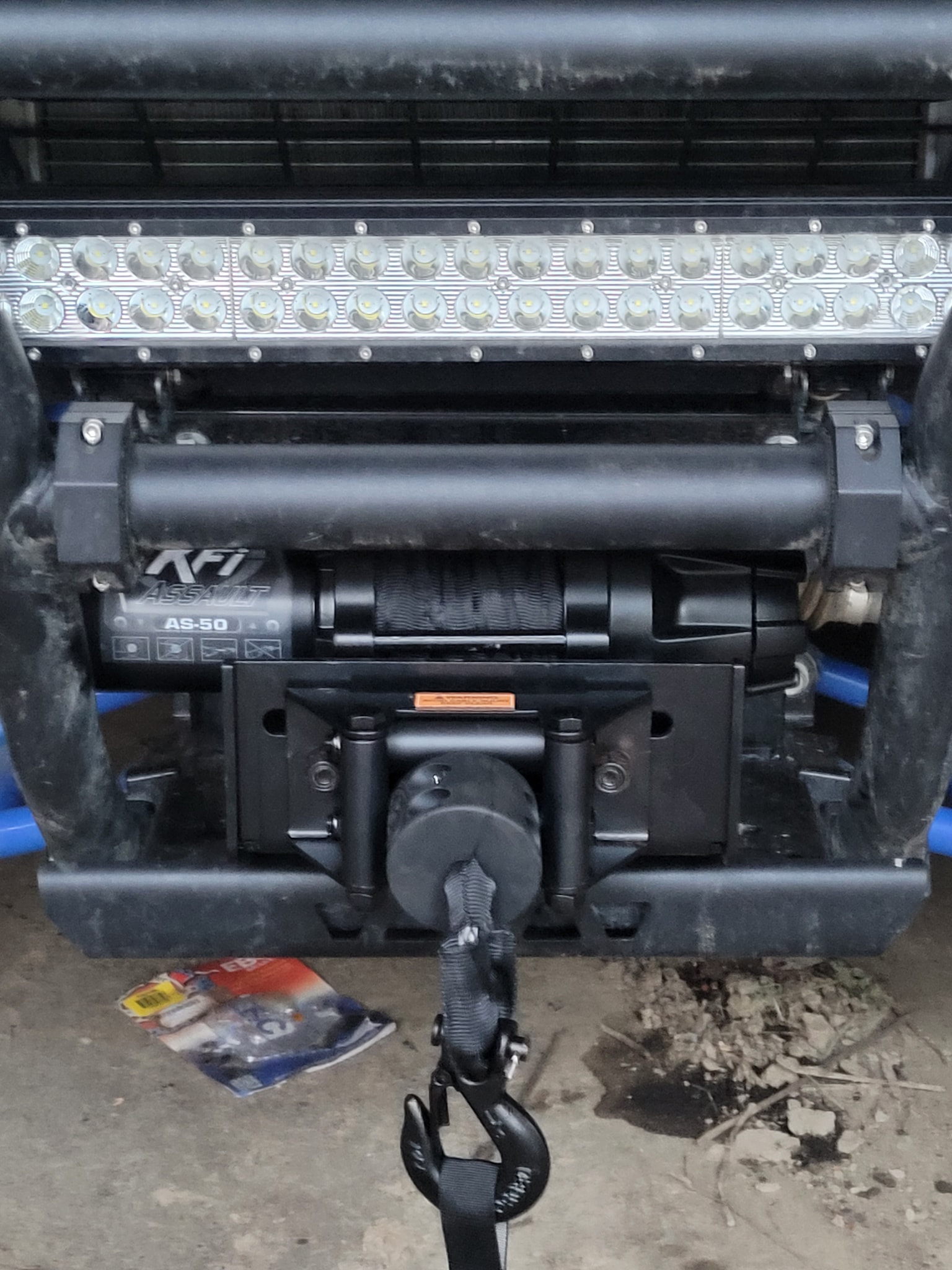 When paired with one of their mounting brackets, the Assault winch by KFI is incredibly easy to install. Like The SuperATV Black Ops winch, the Assault winch also features a cable hook stopper, a synthetic rope, and a waterproof seal to prevent both moisture and dust from messing with the internals. Additionally, the KFI winch uses a dynamic braking system and heavy-duty turn clutch, thereby ensuring that the mooring rope is always tight -- even if the motor cuts out due to electrical issues.
The split cable hook stoppers that KFI winches include are also highly beneficial. They prevent the hook from clattering and clamoring while your ride, and keep the hook stationary so that it doesn't wear out the winch rollers. And if you choose to run a cable winch line in an Assault winch, the split cable hook stopper is designed in a way that will avert damage to both you and your machine should the winch line snap. If you want a winch that is ultra safe and refuses to die, the Assault line of winches by KFI won't disappoint!
The Viper Elite Winch By MotoAlliance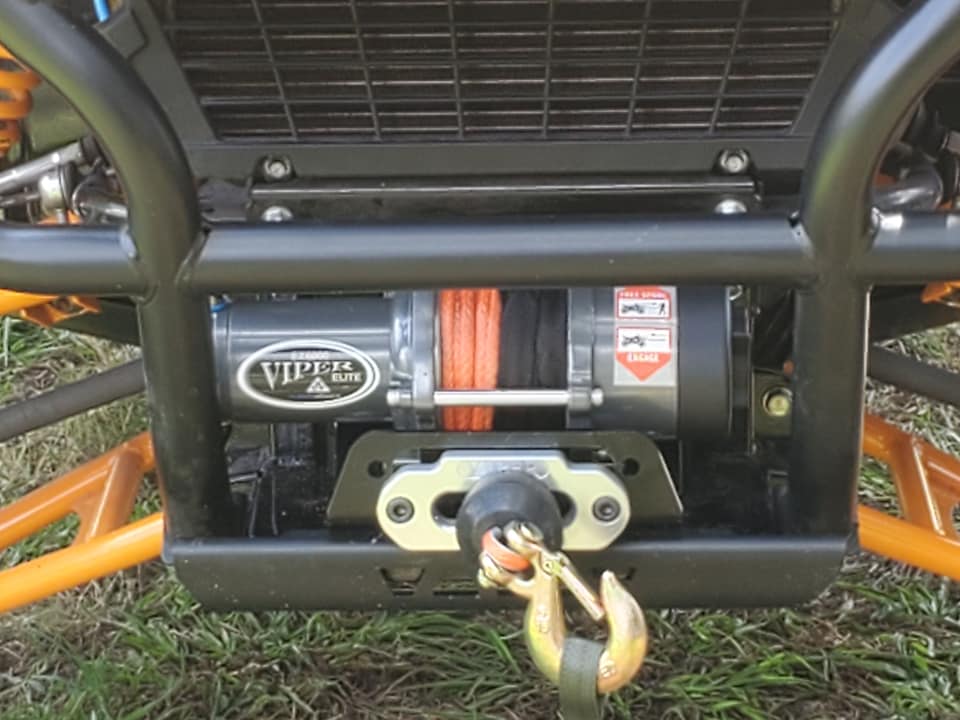 The last of our top 3 winches for Kawasak UTVs is the Viper winch by MotoAlliance. This line of UTV winch comes in various sizes and strengths, allowing users to choose an appropriate winch with ample amounts pulling power for the task at hand. Like our other choices for the top 3 Kawasaki UTV winches, Viper winches are also watertight and come with in-cab rocker switches for easy operation. Furthromer the Viper winch kits available at Everything Kawasaki Offroad also include a rubber line stopper, a waterproof winch cover, and a 4-ton snatch block to increase your pulling power even further!
Wrapping Up
There you have it, our top 3 picks for the best winches to use on a Kawasaki Mule, Kawasaki Teryx, and Kawasaki KRX. If you've been involved in the off-road scene for a while, you'll likely notice that we didn't include names like Warn, Rough Country, Moose, or QuadBoss. In some cases, you might be better off with one of these winches. Nevertheless, we developed this list of the top 3 UTV winches based on general use and everyday winching applications. Sure, if you need something with out-of-this-world strength, you might want a gas-powered winch over an electric winch. Or if you're concerned about weight, a 2,500 Lb winch with a few snatch blocks could be the perfect solution. For a majority of riders, though, all that's required is an affordable UTV winch that doesn't mind getting dirty and will handle heavy use year in and year out!