Kawasaki UTV Roof Review: Top Kawasaki Mule Roofs, Teryx Roofs, And KRX Roofs
Nov 15, 2021
Open air riding is refreshing, but a little overhead coverage is also nice to have. Soft roofs for Kawasaki side-by-sides that can be easily installed / removed are a good compromise, while the more permanent metal Kawasaki UTV roofs, sport roofs, and audio roofs all offer advantages that outweigh their disadvantages. But whatever your particular situation entails, there's a roof out there that's sure to benefit you in the field. At the same time, though, there are roofs out there that can cause headache after headache. So, to help you avoid the lemons, here are the undisputed top roof options for the Kawasaki Mule, the Kawasaki Teryx, and the Kawasaki Teryx KRX!
The Top Budget-Friendly Kawasaki Mule Roofs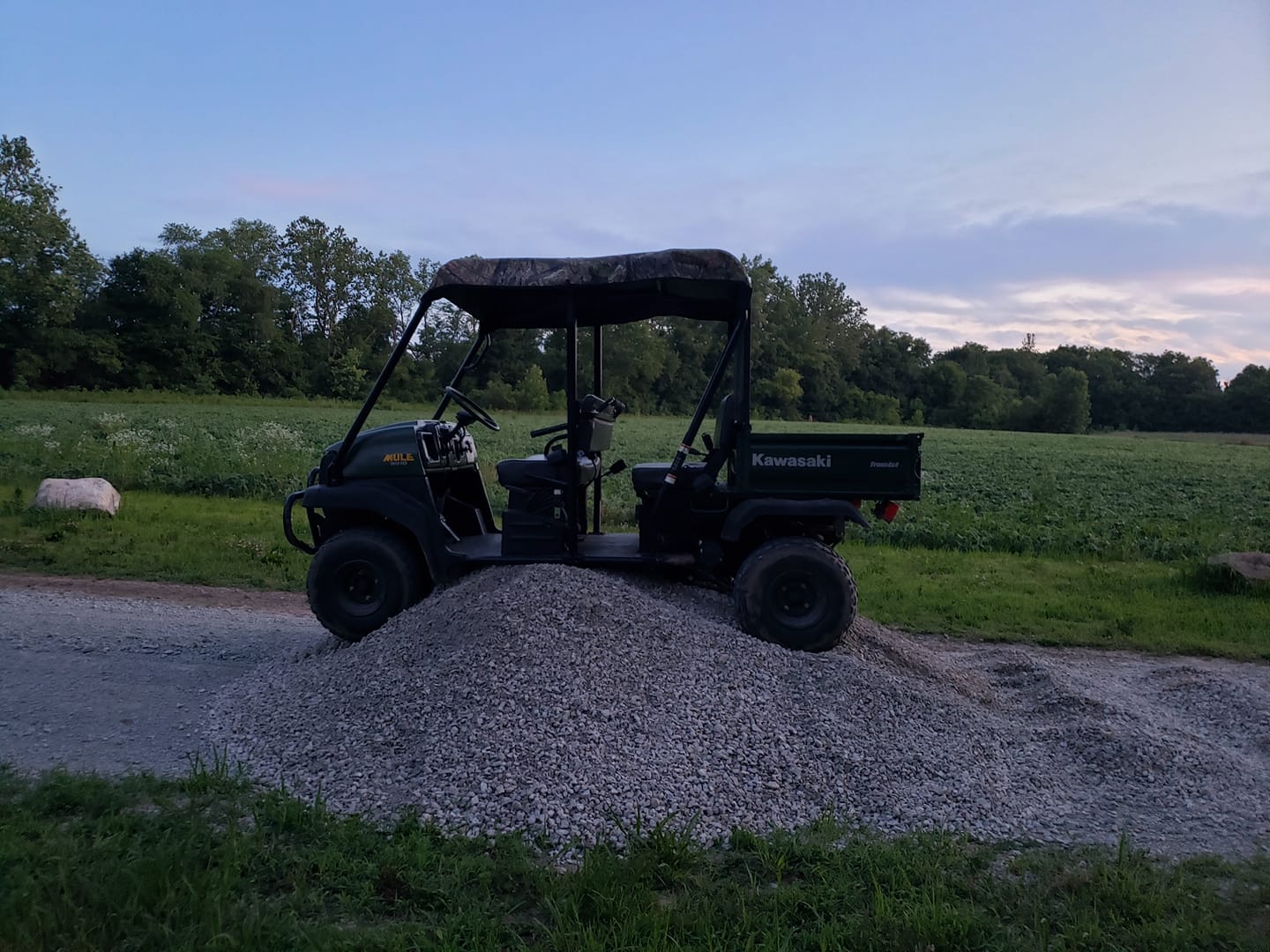 Some riders choose to forgo high-grade metal Kawasaki Mule roofs and instead go with factory Kawasaki Mule roofs to save money for lift kits, tires, wheels, and other aftermarket Kawasaki Mule accessories. The stock Kawasaki Mule roof, however, is quite flimsy when towing, and it needs to be either strapped down or taken off before hitting the open road atop an open-air trailer.
Although OEM Kawasaki Mule roofs are pretty cheap when compared to aftermarket poly Kawasaki Mule Pro roofs, Kawasaki Mule Pro-FX aluminum roofs, and Kawasaki Mule AudioFormz roofs, there are plenty of budget-friendly roof options available from which cost-cutting Mule owners can choose. Soft Kawasaki Mule roofs and roof caps like the ones by GCL and Greene Mountain are incredibly affordable, and so too are the molded Kawasaki Mule roofs, the 2-piece Kawasaki Mule roofs, and the 3-piece Kawasaki Mule roofs by Rough Country, Extreme Metal Products, and Kolpin Powersports respectively.
The point is that there are loads of good tops out there for the Kawasaki Mule, the Kawasaki Mule SX, and the Kawasaki Mule 4010, so don't spend a penny on something like the OEM Kawasaki Mule roof unless you enjoy pouring your money out the window!
The Top Kawasaki Mule Metal Roofs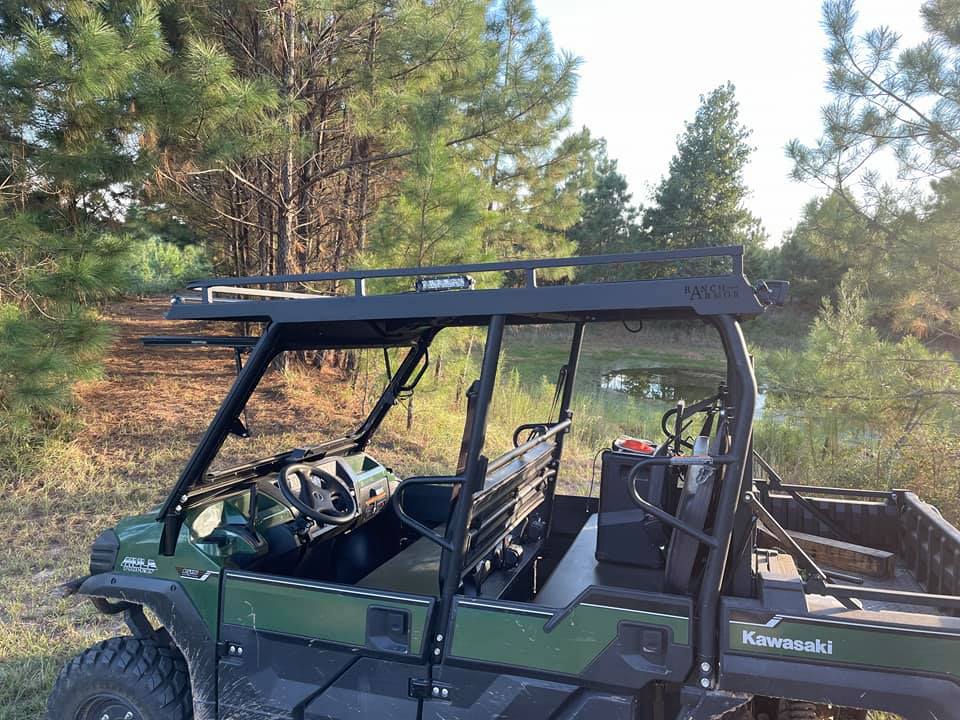 The two most common metal roofs for the Kawasaki Mule are steel Kawasaki Mule roofs and aluminum Kawasaki Mule roofs. Kawasaki Mule metal roofs like the ones by Kolpin Powersports and Razorback Offroad are loved by riders for multiple reasons. Not only are they lightweight, tough as nails, and leak-proof, but the metal Kawasaki Mule roofs by Kolpin, Razorback, and firms like Ranch Armor are also designed to flip open in the rear so that they don't obstruct the dumping functionality of a fully-extended Kawasaki Mule cargo bed.
Metal roofs are also handy because they pair nicely with Kawasaki Mule roof racks. But if you're worried about increasing the height of your setup, a low-profile Kawasaki Mule roof will give you overhead protection without making your rig too tall to fit in your garage or enclosed toy hauler. Other features that most Kawasaki Mule metal roofs share are integrated visors / headliners for mounting lights / audio gear, gutters to channel water away, and a gas-strut-assisted hatch that opens up for the dump bed. Flipping metal roofs for the Kawasaki Mule also allow you to stack items higher in your bed -- be they square hay bales or rectangular cinder blocks.
The Top Kawasaki Mule Plastic Roofs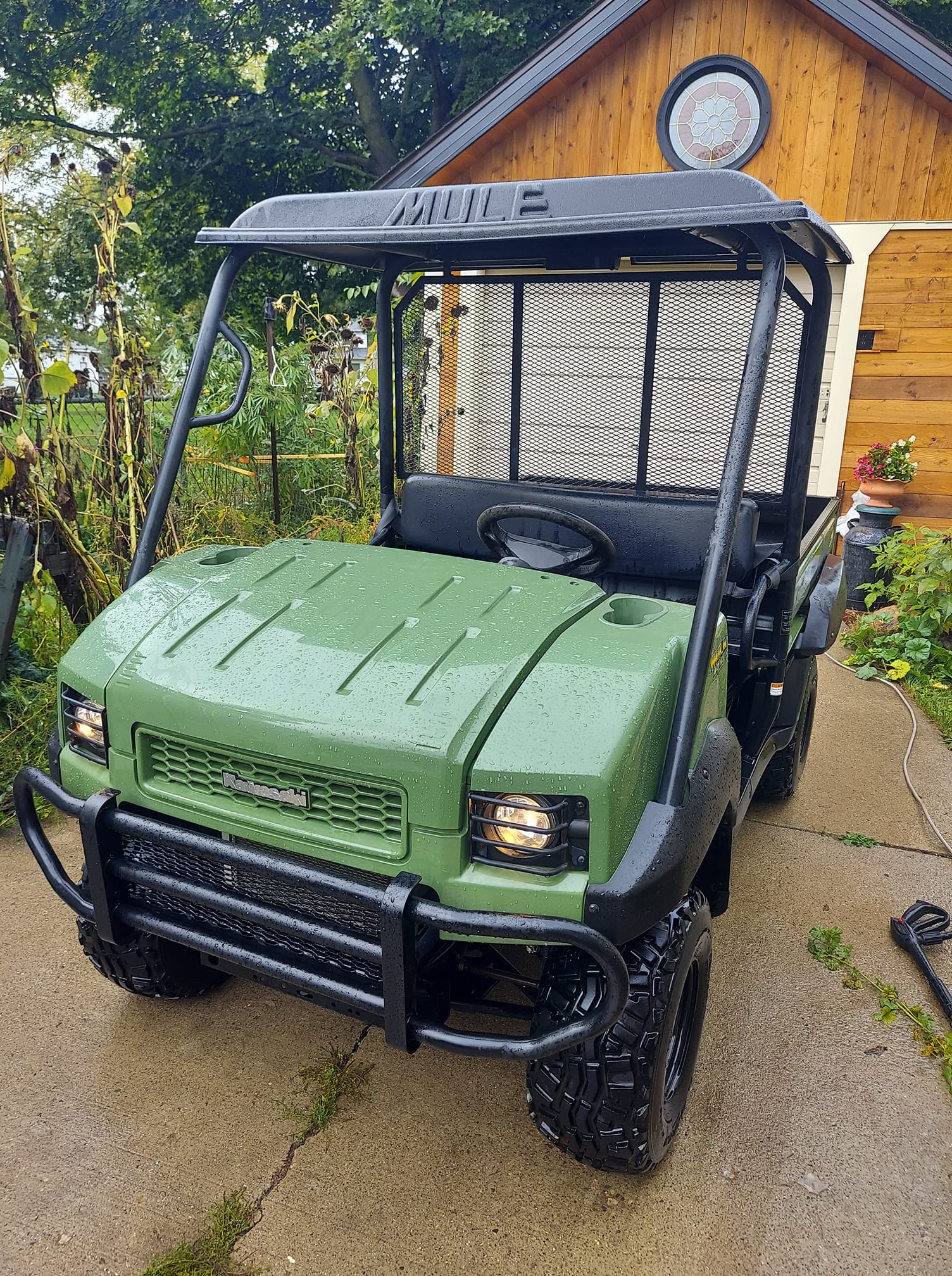 While it's nice to have a Kawasaki Mule hard top with a dome light and all the other bells and whistles, the simplicity of a basic Kawasaki Mule plastic roof is more than sufficient for a large portion of riders. As an example, you shouldn't stress too much over flipping roofs that are compatible with long-bed cargo trays with dumping functionality. If you've got your long bed loaded to the brim with dirt, rocks, firewood, or whatever else, you'll have a hard time lifting it in the first place with all that weight.
The plastic Kawasaki Mule tops by Ranch Armor come with molded-in slots to help you haul more cargo, while the durable polyethylene roofs by Moose are sleek, streamlined, and light as a feather. But regardless of whether you're leaning towards a Fortress Kawasaki Mule roof, a Whomoto Kawasaki Mule roof, or a Kawasaki Mule audio roof with built-in stereo equipment, think long and hard about your riding needs, your riding environment, and your riding budget before pulling the trigger on an aftermarket Kawasaki Mule roof!
The Top Kawasaki Teryx Roofs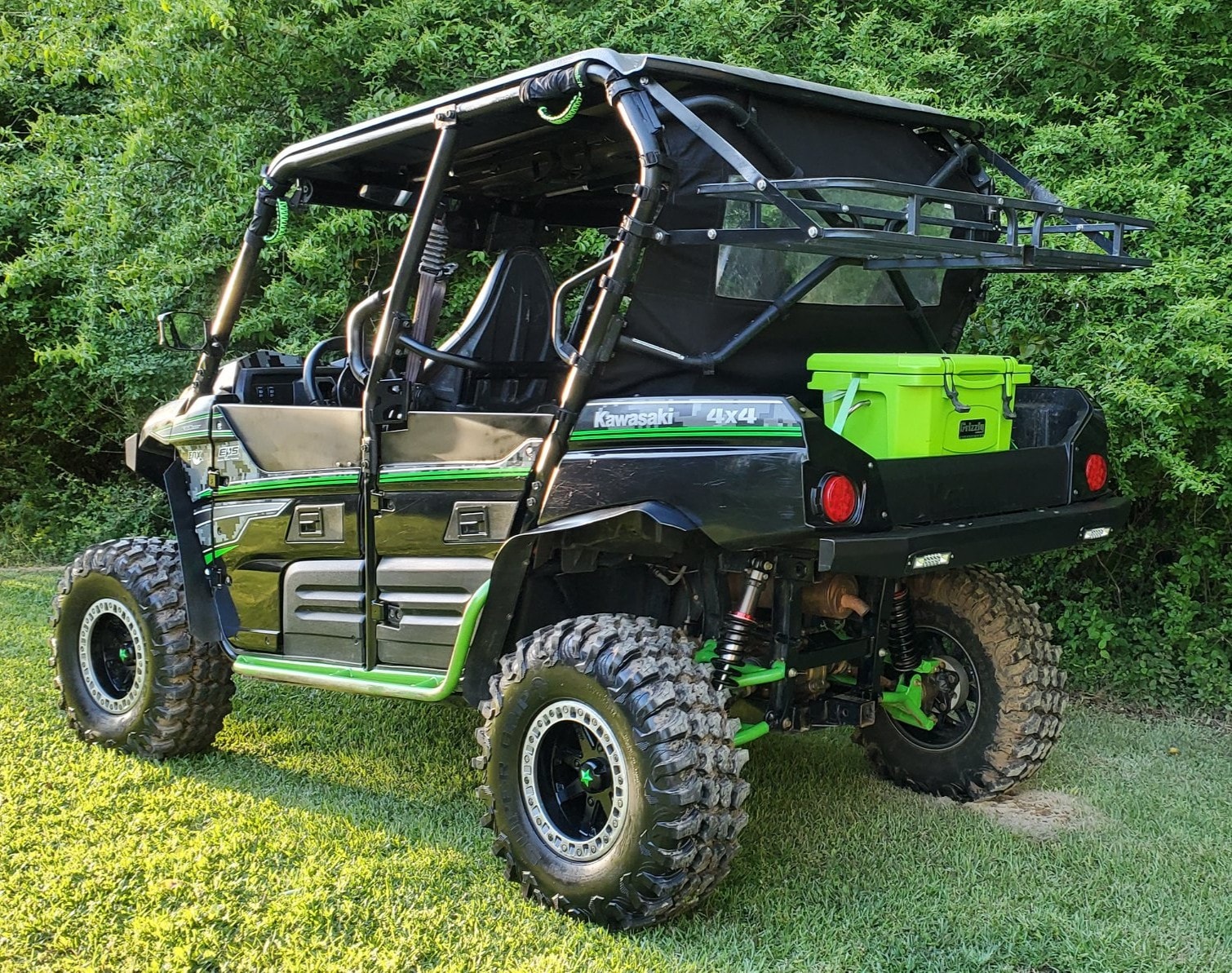 For a razor-sharp profile, the aluminum T2 roofs and T4 roofs by EMP will cut through air like butter -- the perfect solution for when you're riding in heavy headwinds! For a hyper-functional Kawasaki Teryx roof with a molded-in luggage holder, slots for bungee cords / cargo nets, and drains for water runoff, the T2 poly roof by Moose is the bomb! A Kawasaki Teryx roof is waiting with your name on it… all you have to do is decide which one!
The Top Kawasaki Teryx Soft Tops
Soft roofs for the Kawasaki Teryx and Teryx 4 are hit and miss. It's not hard to use UV-resistant materials like canvas to provide shade, or waterproof materials like PVC-backed Polyester to keep you dry. But where many Kawasaki Teryx soft roofs fall short is fitment. With a soft cover / top cap, tension is key. If you rely on sub-par mounting methods, your soft roof will loosen up and begin to sag over time; and keeping the roof snug becomes a constant repair.
In addition to using stabilized fabrics that don't stretch or shrink under harsh conditions, manufacturers have also developed stronger soft roof mounting mechanisms using quick-release snap-close buckles and hook-and-loop velcro strips. Add a soft rear panel and some soft doors and you'll have an all-weather machine that rides well in every season!
The Top Kawasaki Teryx Audio Roofs
Products like the 26" Bluetooth Riot Sound Bar by Boss can be mounted to the roof liner or upper roll bars of your Teryx to deliver seamless audio at ultra high fidelities. Kawasaki Teryx audio roofs and roofs with built-in radios are also available from companies like ProBox, and they typically include an amp, four 6x9" speakers, one 12" subwoofer, and four LED light bars. For a fraction of the cost, however, you can build your own Kawasaki Teryx stereo roof with two mid-range speakers, two high-range speakers, two Rockford Fosgate P2 8" Punch speakers, and a 3,000-watt amplifier.
The Top Kawasaki Teryx KRX 1000 Roofs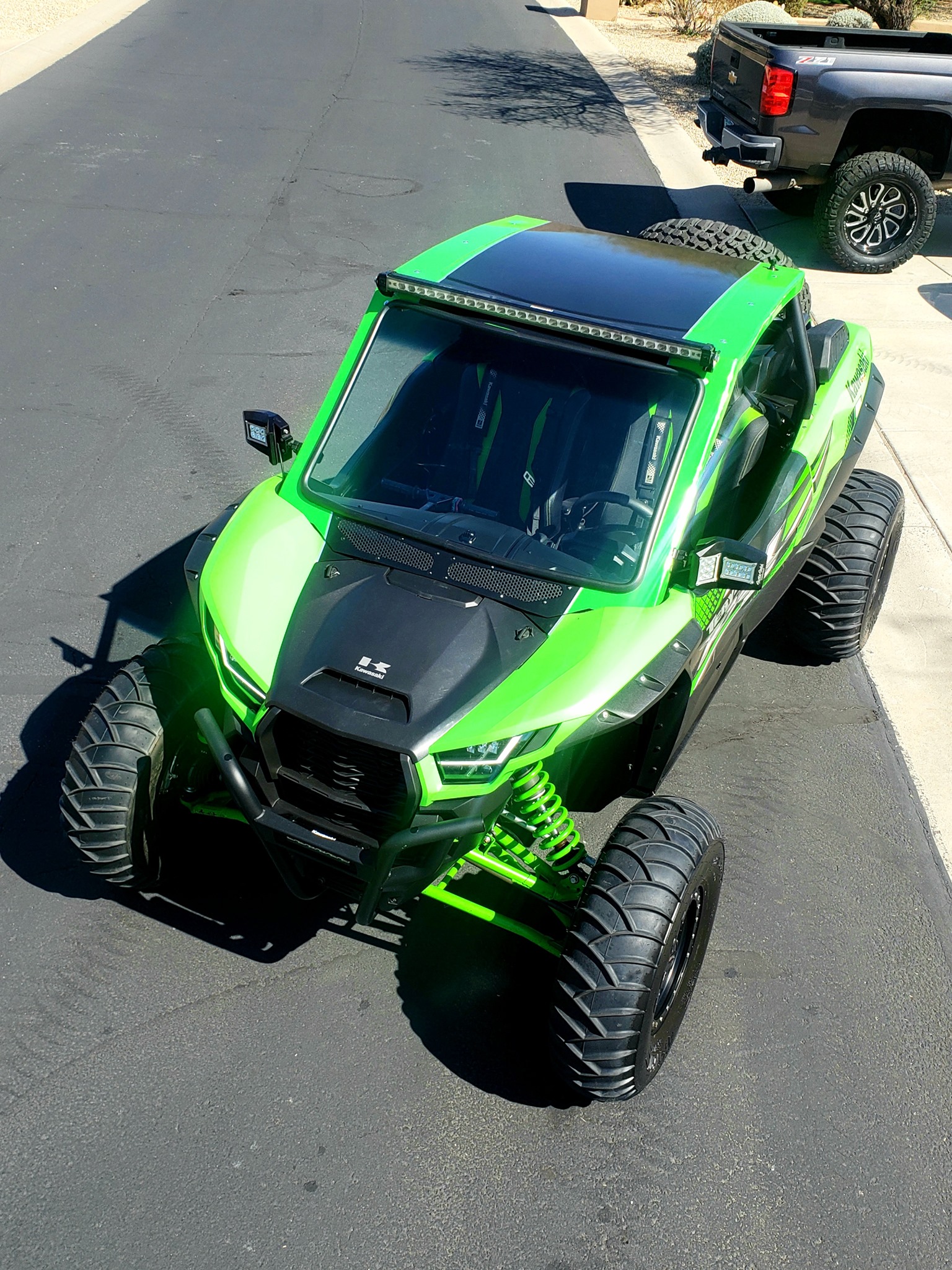 KRX soft roofs with the right mounting hardware, front / rear brackets, and cross braces are decent, but most riders prefer hard roofs for the Kawasaki KRX. Where price is concerned, few roofs are as wallet-friendly as the plastic Kawasaki KRX Roof by UTVZilla. The roof consists of a quarter-inch-thick piece of high-density plastic that attaches to the cage of your vehicle with corrosion-resistant bolts.
Some other types of Kawasaki KRX roofs that are popular with riders include the polycarbonate roofs and tinted polycarbonate roofs by SATV and Spike Powersports. Because poly roofs are transparent, they won't detract from that open-feel riding experience; and if tinted poly roofs for the KRX don't provide enough shade for you, they are easily customizable with vinyl stickers and graphic kits!
Because of the thick foam used to seal polycarbonate KRX roofs to the cage, you'll have ample amounts of room to mount accessories like velcro upper doors / soft windows. At the same time, however, this also allows water to trickle down your back during heavy downpours. While these types of roofs won't leak in normal circumstances, if you drive them under a waterfall, don't be surprised if a bit of water drips onto your neck.
The Kawasaki KRX sport roofs and Kawasaki KRX aluminum roofs by Axiom and EMP are also not 100% leakproof, as no roof will be without upper doors to enclose the sides. Most roofs come with self-adhesive foam strips to fill the gaps, but if water is leaking off the roof and then getting blown into the cabin by the wind, you can run some DIY roof gutters made from half-round foam weather stripping from the front of the roof to the back of the roof on both sides.
Other Remarks On Kawasaki Side-By-Side Roofs
In addition to the roof itself, you should also think about any roof-related accessories that you might run in the future, such as overhead gun racks, on-roof cargo racks, dome lights, roof-mounted antennas, etc. There are endless permutations you can make from Kawasaki UTV roofs and Kawasaki UTV roof accessories. But only you can decide the right Kawasaki Mule roof, Kawasaki Teryx roof, or Kawasaki KRX roof for your personal situation!