​Track Systems For The Kawasaki Mule / Teryx; Are They Worth It?
Sep 28, 2022
If you're sick and tired of getting stuck in slushy snow, if you've got big plans for a little ice fishing next winter, or if your machine struggles to plowing while rolling on stock tires and snow chains, installing side-by-side tracks could be the right course of action for you! Whether you go with snow tracks for your Kawasaki Mule, or all-terrain tracks for your Kawasaki Teryx, the ground clearance, stability, and traction gained through the use of UTV tracks makes them an upgrade that many riders simply cannot pass up. Track systems aren't without their drawbacks, however, and there are limitations that even a tracked-out Kawasaki 4x4 can't overcome. But if you're considering tracks and want to learn more to see if they're worth it for you, here is everything you need to know about track systems for the Kawasaki Teryx and Mule!
Kawasaki Teryx Tracks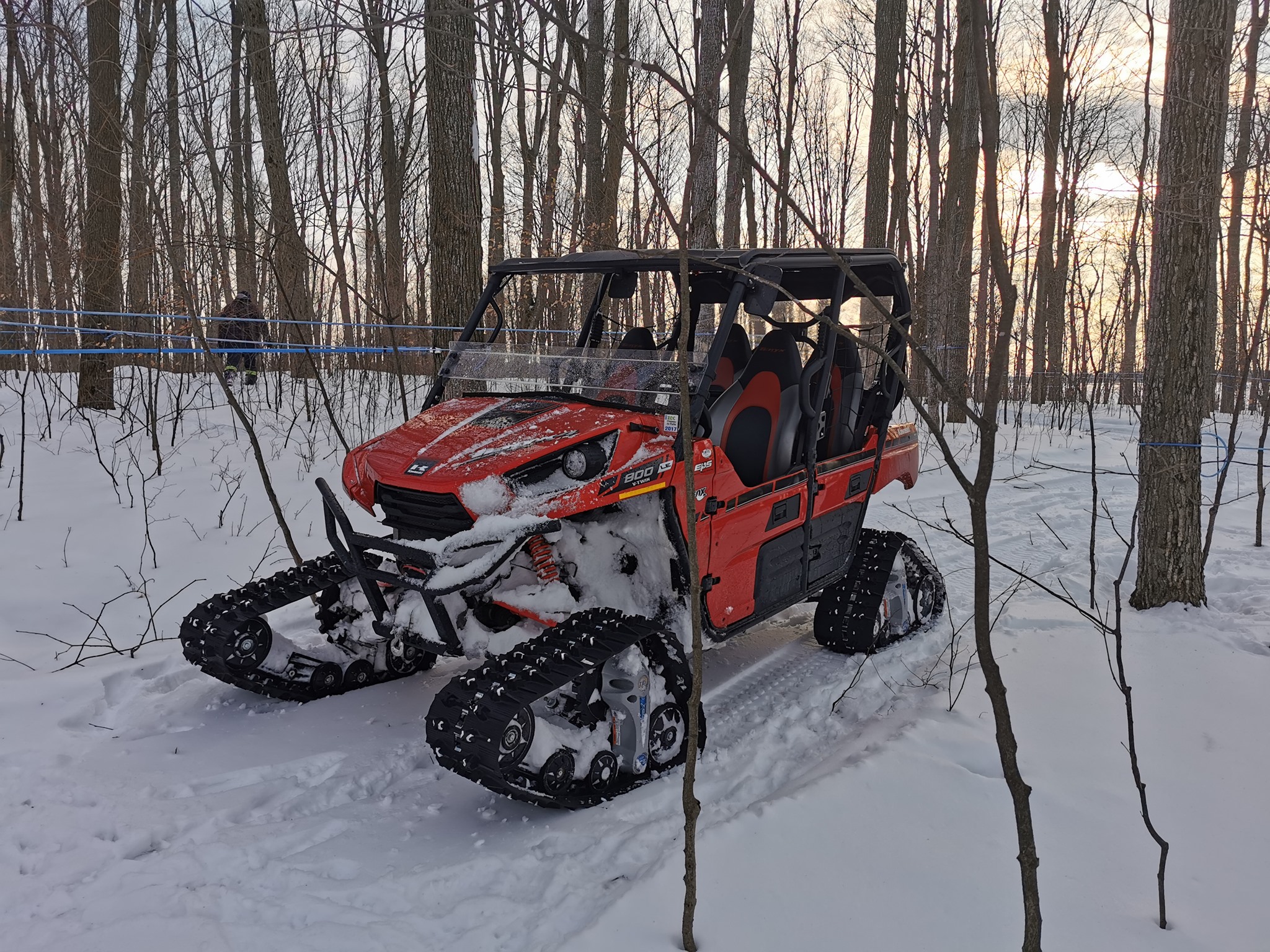 Installing a track kit on the Kawasaki Teryx isn't as simple as taking off the wheels, bolting up a set of rubber Camso tracks, and riding off into the sunset. In order to run Kawasaki Teryx tracks, you'll need plates to anchor the anti-rotation bars of the tracks to your vehicle. A diff lock speed limiter bypass is also required. Without a locking differential, the tracks want to go under in deep snow and when going from powder to hard pack. Because of the gear reduction of the tracks – as well as the governor in the ECU – it can be hard to get enough momentum at times. With a diff lock bypass, however, this can be overcome!
Most track kits for the Kawasaki Teryx will include everything you need to get going. But if you're not running stock a-arms, you'll need a different style of mounting plates depending on whether you've got high-clearance a-arms, forward a-arms, or arched a-arms.
As we mentioned earlier, tracks deliver a reduction in gearing, which means slower top speeds. Although you'll get dang near anywhere you want with tracks installed, don't expect to get there quickly – 35MPH is about as fast as a Teryx will go on tracks.
Kawasaki Mule Tracks
Some snow track kits for the Kawasaki Mule -- like the ones by Camso -- come with spacers to lift the shocks. Without these or other 3"+ lift kits, the tracks will rub when the suspension compresses fully. Steering limiters will help to prevent your tracks from rubbing as well, and like with the Teryx, the top speed of a Kawasaki Mule with tracks installed is drastically lower than it is with wheels – around 25-30MPH.
To quickly remove your tracks and re-install tires for summer riding, simply unbolt the lug nuts, unbolt the clamps and brackets on the a-arms, and leave everything hooked up to the tracks. If you've got 14" rims, they should clear the track brackets, so leaving them on won't cause any issues. Once you've got your tires are back on, double check the alignment and you should be up and running in no time!
Tips For Riding With Kawasaki UTV Tracks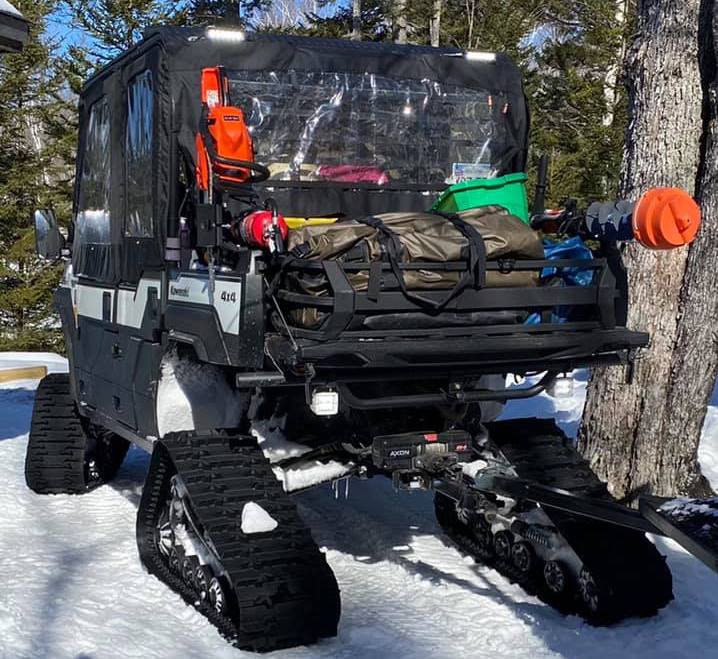 Although tracks are far superior to tires when it comes to slush and snow, you can still get stuck if you're not careful. And once your tracks sink in, you'll be in for a real treat – especially if you don't have a winch to pull you out. Many riders with tracks on their Kawasaki side-by-sides run dueling winches (one on the front and one on the rear), and having extra tow straps / line extensions on hand is a good idea as well. If you're stuck in an area with few anchor points, a little extra length will go a long way! Other items to bring include a jack and some blocks, just in case a track comes off as you're riding. And for ice fishing where no natural anchor points exist, you can find screw anchors designed to thread into cracks in the ice that act as workable winch points!
Knowing your capabilities is important where tracks are concerned, so you should experiment near the shoreline when ice fishing, or over milder terrain when first starting out so you can extract your rig if you end up getting stuck. If the slush or snow you're driving over is deep enough that it hits the belly pan, then the chances are high that you will get stuck.
In addition to recovery, you should also be careful when backing up in deep snow with tracks installed, because this might cause you to break a torque rod. Additionally, you should try to avoid towing things that might pull down and make the rear tracks bite hard – mainly on dirt, clay, or heavy mud – because this can rip the drive cogs clean out and delaminate the inner layers of the tracks!