Top Coolers for the Kawasaki Mule and Teryx
Mar 22, 2022
With the dawning of spring being a perfect excuse to dust off your Kawasaki Mule or Teryx for the spring, summer, and fall riding season, a few preparations are going to be needed.
You'll have likely already thought of the obvious things, such as fuel and charging your battery (shameless plug for a Kawasaki UTV Battery Charger here). But we're willing to bet you may have forgotten something. Something imperative to you having a great day out on the trails.
What could that something be? The humble cooler.
Thats right… a cooler! Something to keep your sandwiches, snacks and beverages frosty no matter how hot it may be outside. That's why today we are going to show you some of our top picks for Kawasaki Mule and Teryx Coolers!
Traditional Kawasaki Mule and Teryx Coolers
Unlike the cheap and not-so-well insulated coolers you can find at the supermarket and gas station, we prefer the real deal.
Take a look at the Kawasaki Mule / Teryx 20QT Super-Cooler by Kolpin Powersports. These coolers are built to be rugged and survive you speeding down trails. And they're so well insulated that you'll find it still full of ice cubes several days into a trip. If the 20QT version isn't enough for the whole family's food and drinks, you can opt for the Kawasaki Mule / Teryx 60QT Super Cooler by Kolpin Powersports as a larger option instead.
Adding a Kawasaki Teryx cooler like these to your list of must-haves will ensure that you have many awesome days out on the trails.
Kawasaki Mule and Teryx Refrigerated Coolers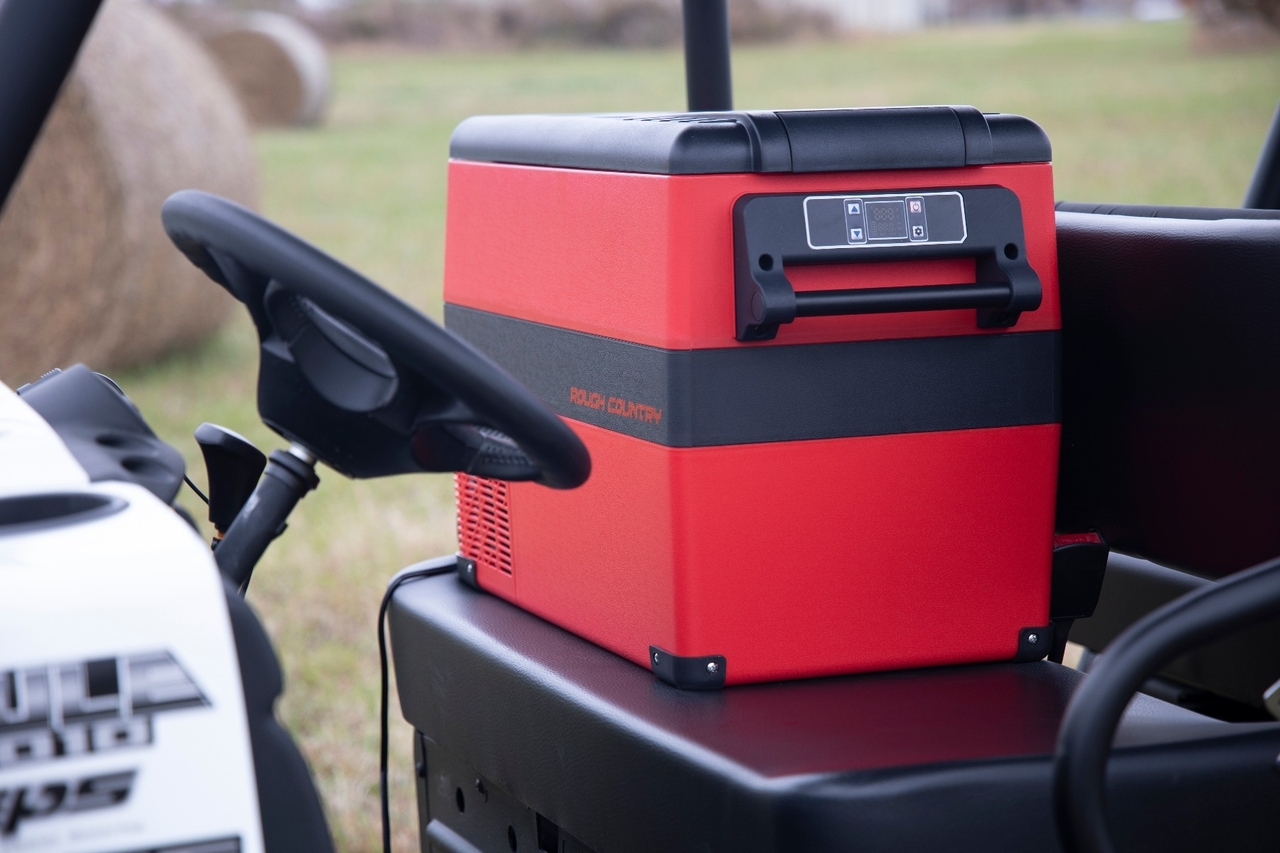 These aren't your everyday mini-fridges…
When you pick up a Kawasaki Mule / Teryx 45L Portable Refrigerator/Electric Cooler by Rough Country, you're giving yourself access to cold food and drinks almost indefinitely.
Why might you need a refrigerated cooler?
Well, for those that like to take their Kawasaki Teryx overlanding and camping, you may find yourself unable to provide fresh ice for days on end. And the point is to camp as far from civilization as possible, right? So there likely won't be any gas stations to grab a bag of ice from.
These fridges run off of your side-by-side's battery power, allowing it to stay cool as long as your battery lasts.
And I know you're worrying about draining your battery and being left stranded, but there is a solution to that as well: A Kawasaki Teryx Dual Battery Kit. These kits allow you to add a second Kawasaki Teryx battery and dedicate it to your auxiliary electronics such as a fridge. That way your primary battery stays charged and healthy to get you home when the trip is over.
Convenient, isn't it? Personally, a refrigerated cooler was the first thing I added to my build, as I like to keep plenty of ice cold drinks on hand for my friends and I when we go fishing each month!
Kawasaki Mule and Teryx Cooler Bags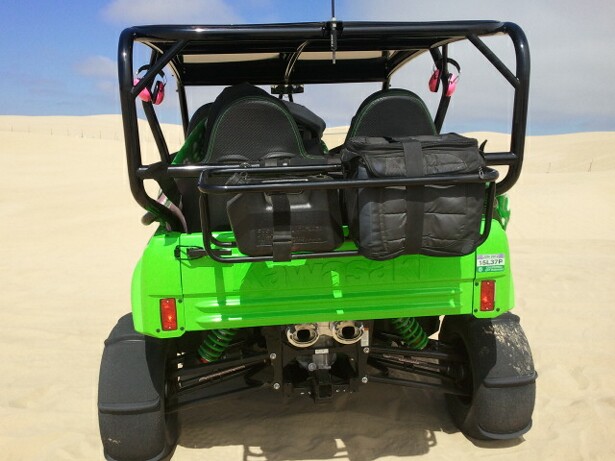 When you only need to transport enough food or drinks to get you through a few hours, or aren't going to be far from civilization, some of the aforementioned coolers may be overkill.
Many owners that use their rigs for work prefer to use simpler Kawasaki Mule cooler options. Something like the Kawasaki Mule Cooler Roll Cage Bag by UTV Mountain will fit plenty of water and food to get you through the work day. And it mounts directly to your roll cage to keep it up and out of the way of any cargo you may be hauling in the UTV.
I bet you didn't think there were that many different options for coolers, did you?
Hopefully this list of our top picks for Kawasaki Teryx and Mule coolers helps you narrow down your options to get your UTV ready for the riding season at hand!