Kawasaki Mule Pro FXT Vs. Can-Am Defender: The Ultimate Utility UTV Showdown
Aug 15, 2023
When it comes to utility-focused UTVs, the Kawasaki Mule Pro FXT and the Can-Am Defender consistently lead the pack. Both of these machines offer unrivaled toughness and practicality, making them the go-to choices for many outdoor enthusiasts and professionals alike. In this blog post, we'll provide an in-depth comparison of the Mule Pro FXT and the Defender, focusing on performance, design, comfort, and overall value to help you make an informed purchasing decision.
Performance
The Kawasaki Mule Pro FXT features a powerful 812cc three-cylinder engine that provides steady power for hauling and towing. The Mule Pro FXT offers a Continuously Variable Transmission (CVT) with selectable 2WD/4WD and dual-mode rear differential system, offering flexibility for various terrains and work conditions.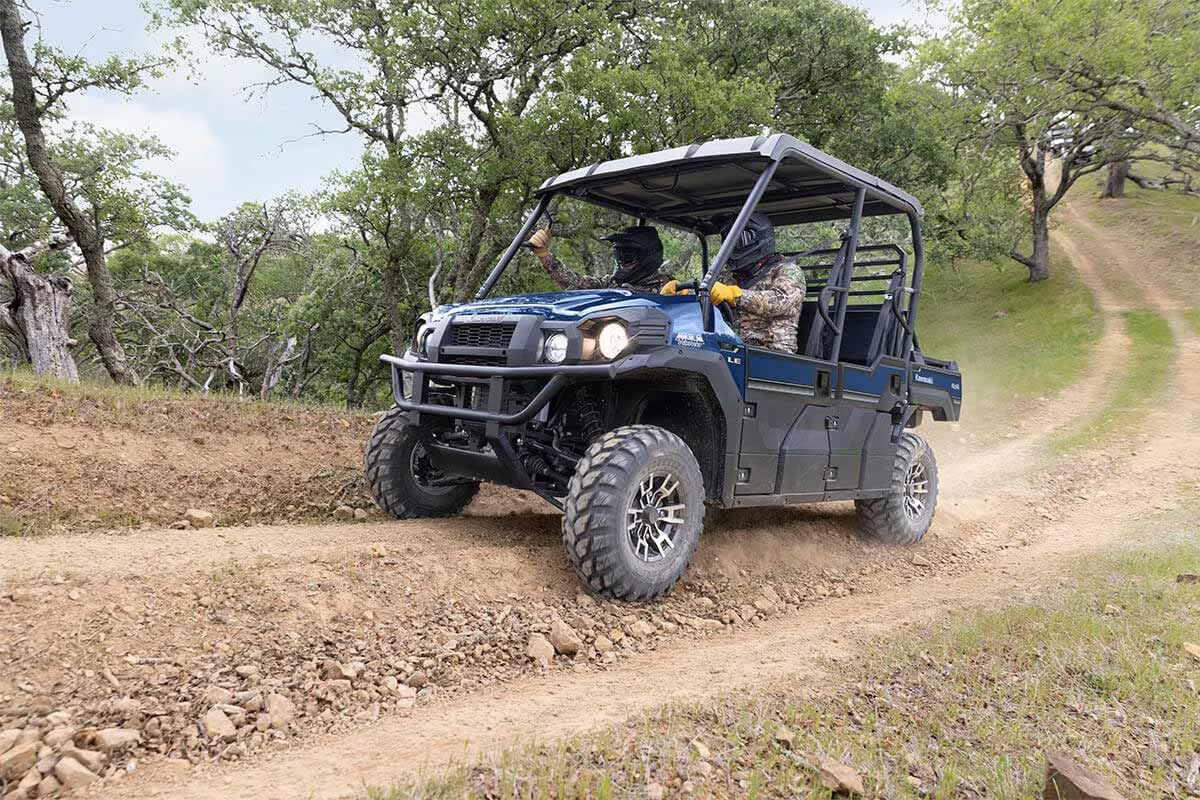 The Can-Am Defender, on the other hand, comes with a robust 976cc Rotax V-Twin engine in its top-end model, pumping out up to 82 horsepower. It also utilizes a Pro-Torq transmission with a Quick Response System (QRS) for high airflow and better cooling. With its selectable 2WD/4WD and lockable rear differential, the Defender is designed to conquer even the toughest terrains.
Design and Comfort
Design-wise, the Kawasaki Mule Pro FXT presents a rugged and durable appearance with its steel cargo bed and full-body skid plates for underbody protection. It boasts a 10.2 inches of ground clearance and a tilting cargo bed for easy loading and unloading.
On the other hand, the Can-Am Defender offers a sturdy yet sleek design with a versatile cargo box, capable of handling up to 1,000 lbs of cargo. It provides 11 inches of ground clearance and features an integrated front steel bumper and a full skid plate for added durability and protection.
Interior Comfort and Technology
Inside the Mule Pro FXT, you'll find comfortable bench seats for up to six people in its dual-row configuration. Its multi-function LCD screen provides critical information at a glance, while power steering offers a smoother ride.
The Defender, meanwhile, seats up to three people and offers adjustable driver's seat and tilt steering for better comfort. Its well-appointed digital gauge cluster provides vital vehicle information, and it also boasts integrated hill descent control for safer navigation on slopes.
Price and Value
As of 2023, the base MSRP for the Kawasaki Mule Pro FXT starts at around $13,199, while the base model of the Can-Am Defender starts slightly higher at approximately $14,099. Both vehicles offer multiple variants with additional features at varying price points.
While the Mule Pro FXT offers solid performance and durability at a more affordable price, the Defender brings additional horsepower and versatility, justifying its slightly higher cost.
Conclusion
Choosing between the Kawasaki Mule Pro FXT and the Can-Am Defender comes down to your specific needs and preferences. If affordability, proven durability, and seating capacity are your top priorities, the Mule Pro FXT could be your vehicle of choice. However, if you're looking for a UTV with higher horsepower, greater cargo capacity, and additional comfort features, the Defender may be worth the extra investment.
In the end, both these UTVs stand out as exceptional utility machines ready to tackle any work or off-road adventure you throw their way. Consider test driving each model if possible to get a first-hand experience of their performance and handling. Happy riding!