​Best Practices For Cleaning / Washing Your Kawasaki UTV
Aug 30, 2022
Some riders pre wash their buggies in deep ponds and rivers, then let the rain take care of the rest. But keeping a clean SxS has less to do with vanity and pride, and more to do with upkeep, preventative maintenance, and general care. Sure, mud stains, skid marks, and other blemishes do detract from the look of the vehicle, but what's more important is longevity. By committing to a rigorous post-ride cleaning policy, you'll be combating the wear and tear caused by dust, mud, dirt, and other corrosive elements present in the surrounding environment. Salt, for example, is a serious machine killer. So if you do any beach driving or spreading of road salts with your Kawasaki side-by-side, conducting a thorough cleaning afterwards is absolutely essential! But no matter how dirty, muddy, sandy, or dusty the conditions get where you ride, here are the best practices for cleaning Kawasaki UTVs!
Best Washing Products For The Kawasaki Mule, Teryx, & KRX
There's no correct way to wash your Kawasaki UTV, but there are plenty of incorrect ways to wash it. A sponge with a bucket full of soapy water will work – albeit with a little elbow grease required – and so too will a standard garden hose. To make quicker work out of washing your Mule, Teryx, or KRX, pressure washers and foam cannons are great. Just make sure to turn the settings down on the former to avoid damage to your seats and other sensitive areas.
You won't hurt your bike by casually washing / rinsing it by hand, but you should exercise caution when using a power washer under the hood, around sealed areas, and near electronics. Keeping the hood closed when you pressure wash is advised, and you'll want to remove the wife unit for sure before washing!
Everyday pressure washers are great for rinsing, but you can add soap-foam applicators that match the PSI of your washer to make things even easier! Foam cannons are the most popular tools used to wash side-by-sides, and if your foam cannon isn't producing thick foam, you can buy a tighter tip to give you the perfect soap consistency that you're after! As far as UTV soaps go, everyone has their go-to products.
You might have heard of Simple Green, Chemical Guys, and Slick Products, but there are many other cleaning solutions that work wonders on the Kawasaki Teryx, Mule, and KRX. A mixture of ⅖ Zep cleaner degreaser and ⅗ Tide does amazing work when applied with a foam cannon, and you won't be disappointed if you use Muc-Off, Blue Wolf Degreaser, or Castrol Super Clean either!
Best Waxes, Polishes, And Ceramic Coatings For Your Kawasaki Side-By-Side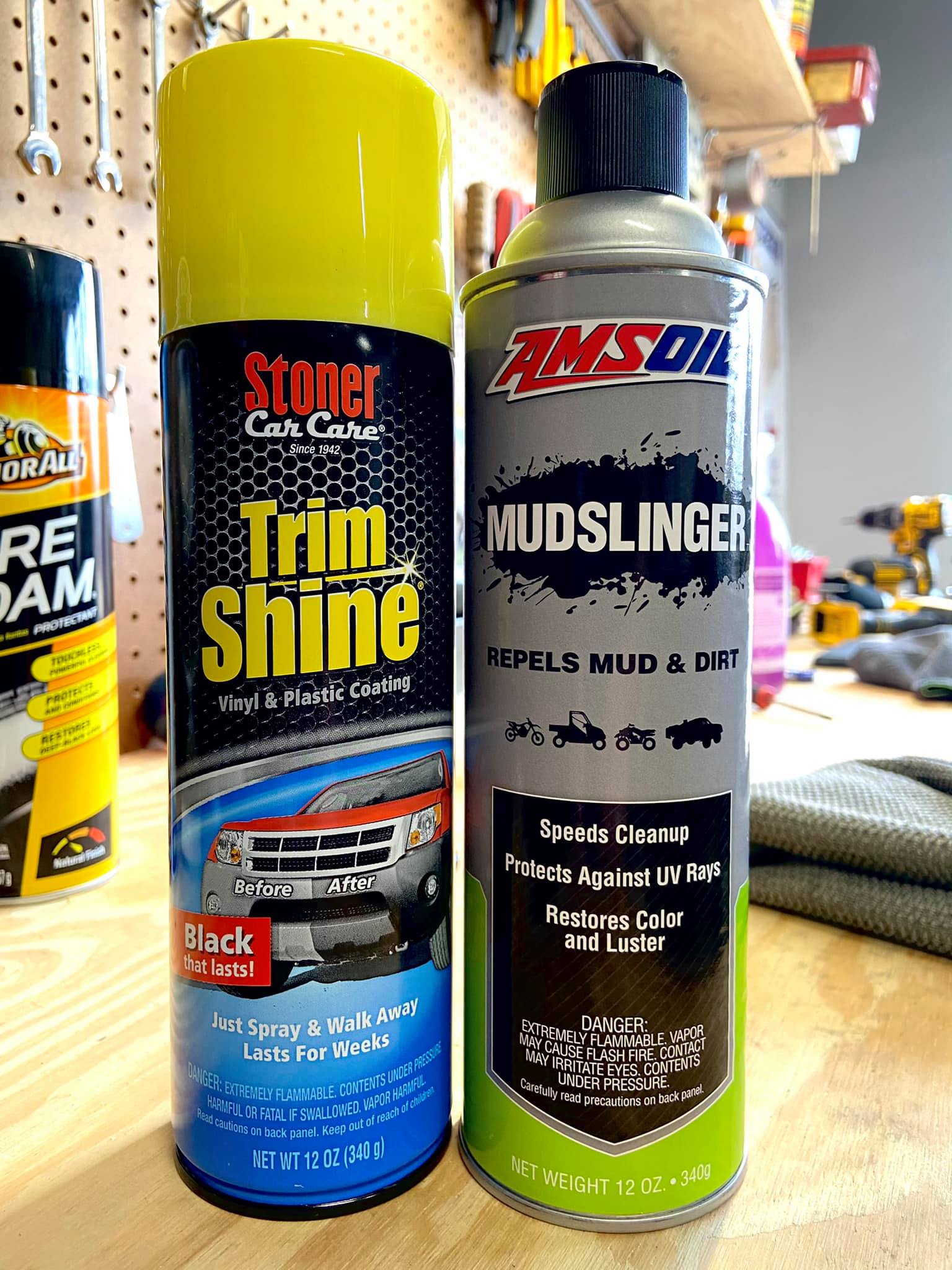 In addition to making your rig's exterior pop with a glossy shine, post-wash products like waxes, polishes, and ceramic coatings also prevent the buildup of dust, mud, and debris, which makes the next wash much quicker, easier, and more effective. Plus, with protective anti-UV coatings, you can prevent the sun from harming your bike's exterior!
One of the most popular post-wash coatings that riders apply to their machine's body panels is SC1, but there's plenty more where that came from. The graphene ceramic coating solutions by Adam's Polish are also commonly used by Kawasaki UTV owners, and so too is Turtle Wax ceramic spray coating. Some premium car soaps are mixed with ceramic waxes, and Meguiar's hybrid ceramic wax is another popular brand that riders trust. The only caveat with ceramic coatings, however, is that they're time consuming to apply!
Best Post-Wash Drying Methods For Kawasaki UTVs
Just like with the cleaning process itself, there's no one-size-fits-all solution to drying your buggy after washing it. Some riders let their machines sun dry, while others blast their bikes with leaf blowers to dry them off. But if you want your UTV to outshine every other SxS on the trail – at least for the first few minutes – you've gotta hand dry the exterior with a microfiber towel!
Best Practices For Cleaning Polycarbonate Windshields
Even if your poly windshield is scratch-resistant and hard coated, you'll still want to take some precautions when cleaning / washing it. You never want to rub a poly windshield when it's dirty. Instead, the best course of action is to inundate it with water to flush everything away. And when applying de-foggers or other windshield cleaning products to polycarbonate materials, make sure that they're poly-safe or designed specifically for lexan, plexiglass, or polycarbonate materials.
Other UTV Cleaning Tips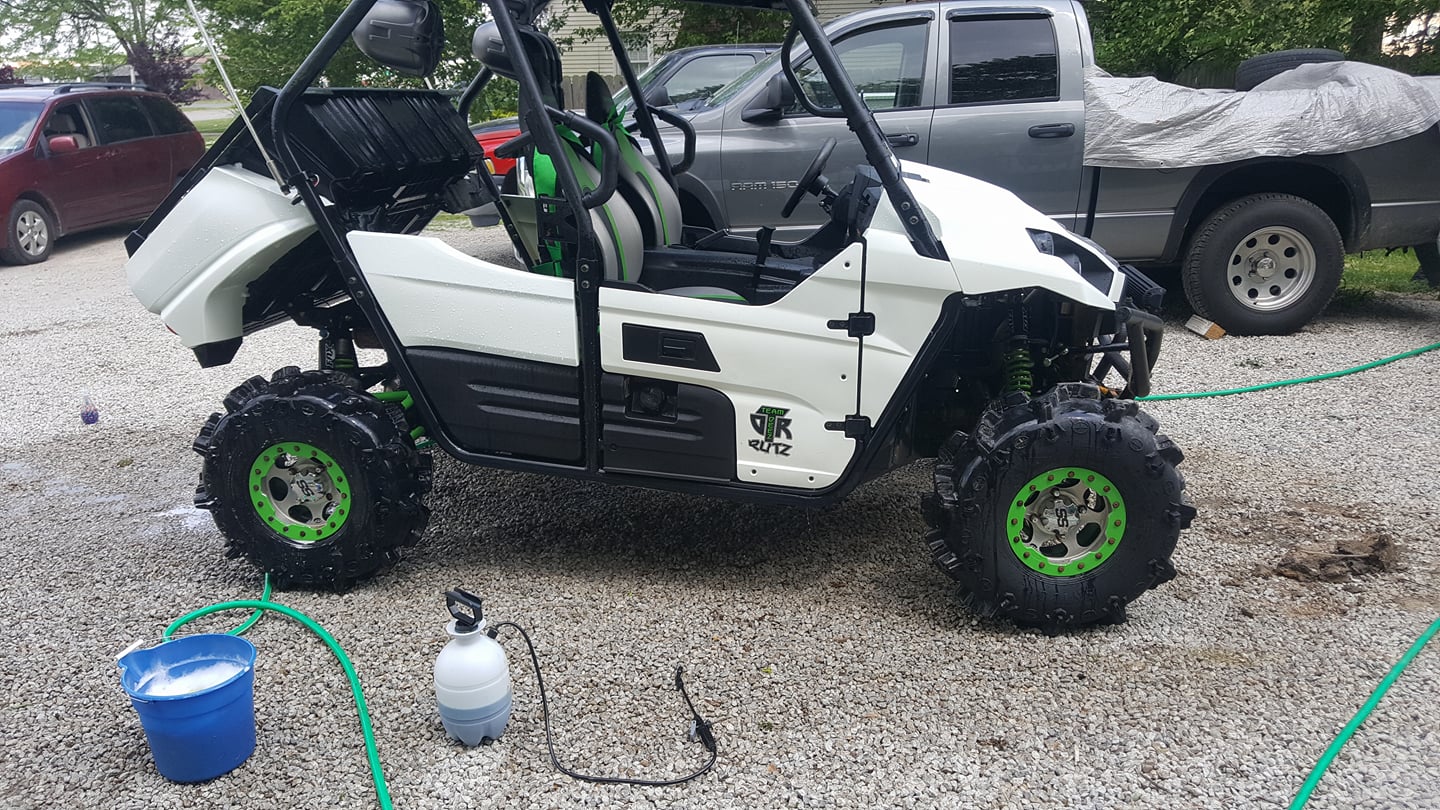 Spraying WD-40 on your bike will prevent dust from sticking – especially if you spray it on the suspension parts and differentials – and Tire Shine also helps to keep mud from caking. Pump sprayers come in handy for on-trail cleaning, and there are products out there for your headlight / tail light lenses to enable more light to shine through! Booty Juice is the mixture of choice for some, and Cajon Brown is another cleaning mix that's strong enough to strip your decals clean off! But regardless of whether you're an avid fan of Showcar Products or you stick to cleaning supplies made for ATVs / UTVs, taking care of your side-by-side through rigorous cleaning / washing habits is a surefire way to keep it looking good and running strong!