​Air Filters And Particle Separators For The Kawasaki Mule, Teryx And KRX
May 15, 2023
No matter where you ride or what you ride, if you're rolling over the Earth in a vehicle powered by internal combustion, you're going to need oxygen to make the engine go boom! The problem is, however, that the incoming air must be clean, dry, and free from potentially-damaging particulates. On a terraqueous work rig or a performance powersports buggy like the Kawasaki Mule, Kawasaki Teryx, or Kawasaki Teryx KRX 1000, the job of cleaning the incoming air is tasked to the air intake system; which comprises air intake tubes / snorkels, air filters, and air-scrubbing accessories like particle separators. Aftermarket add-ons such as pre-filters can also be used, which help to ensure that neither dry desert dust nor silty southern clay can make its way into the engine via the air intake. In the world of air filters for Kawasaki Mule, Teryx, and KRX side-by-sides, there are several factors that must be considered. Reusability is one, and another is the riding environment. Whichever route you take, you'll need to either clean or replace your air filter at the intervals outlined in the owner's manual. But due to the diverse set of potential riding conditions that one might encounter, it's best to personalize your air intake system so that it's optimal for your particular situation. Strap in and get ready to take notes, because we're about to teach you everything you need to know about air filters and particle separators for the Kawasaki Mule, the Kawasaki Teryx, and the Kawasaki KRX!
Air Filters And Particle Separators For The Kawasaki Mule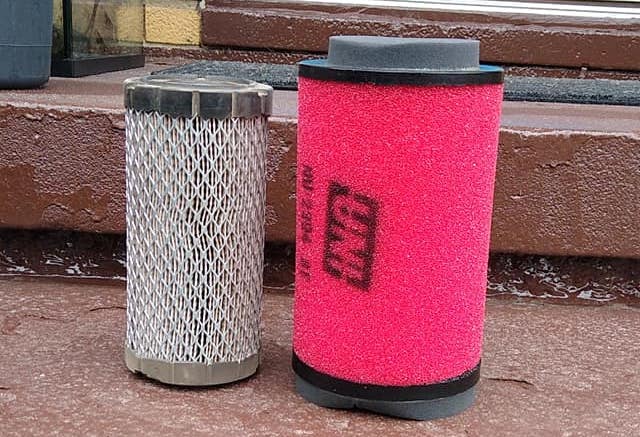 Some riders choose foam Kawasaki Mule air filters for convenience and performance gains, while others stick with stock-style paper Kawasaki Mule air filters. With a replacement factory air filter or an aftermarket Kawasaki Mule foam filter from a firm like UNI or K&M, you might feel like your bike has a little better throttle response, or that it's less bogged down while going uphill. In general, with a clean filter and air intake, your Mule will struggle less and do what it's designed to do!
Before aftermarket Kawasaki Mule air filters became prevalent, both people and dealers alike would sometimes remove the foam sealing rings from behind the OEM filter adapters. They then permanently fix the entire air filter assembly – which should normally slide in and out with relative ease – into the air box with silicone, Loc-Tite 5900, or other oil/gas-resistant liquid gaskets. These ad hoc seals, however, will often get saturated in oil, and not provide an adequate sealing surface before the breather recall comes into play. So if this has been done to your vehicle -- or you did it yourself -- you'll need to remove the filter adapter that's stuck in the air box before you can use an aftermarket air filter!
In addition to replacement air filters / upgraded air filters for the Kawasaki Mule, you can also relocate the intake tubes, add intake snorkels, or use pre-filters / particle separators to combat everything from dirt and dust to mud, water, and fine / powdery snow. With a dust snorkel or water snorkel, we've seen customers go from having to clean their air filters daily in New Mexico, Nevada, or Arizona dust, to only needing an air filter cleaning / replacement after about every 1,000 miles. And instead of zip-tying a sock around the snorkel intake tubes behind your head, you can add a pre-filter like the ones by Outerwears Performance Products to muffle that annoying sucking sound!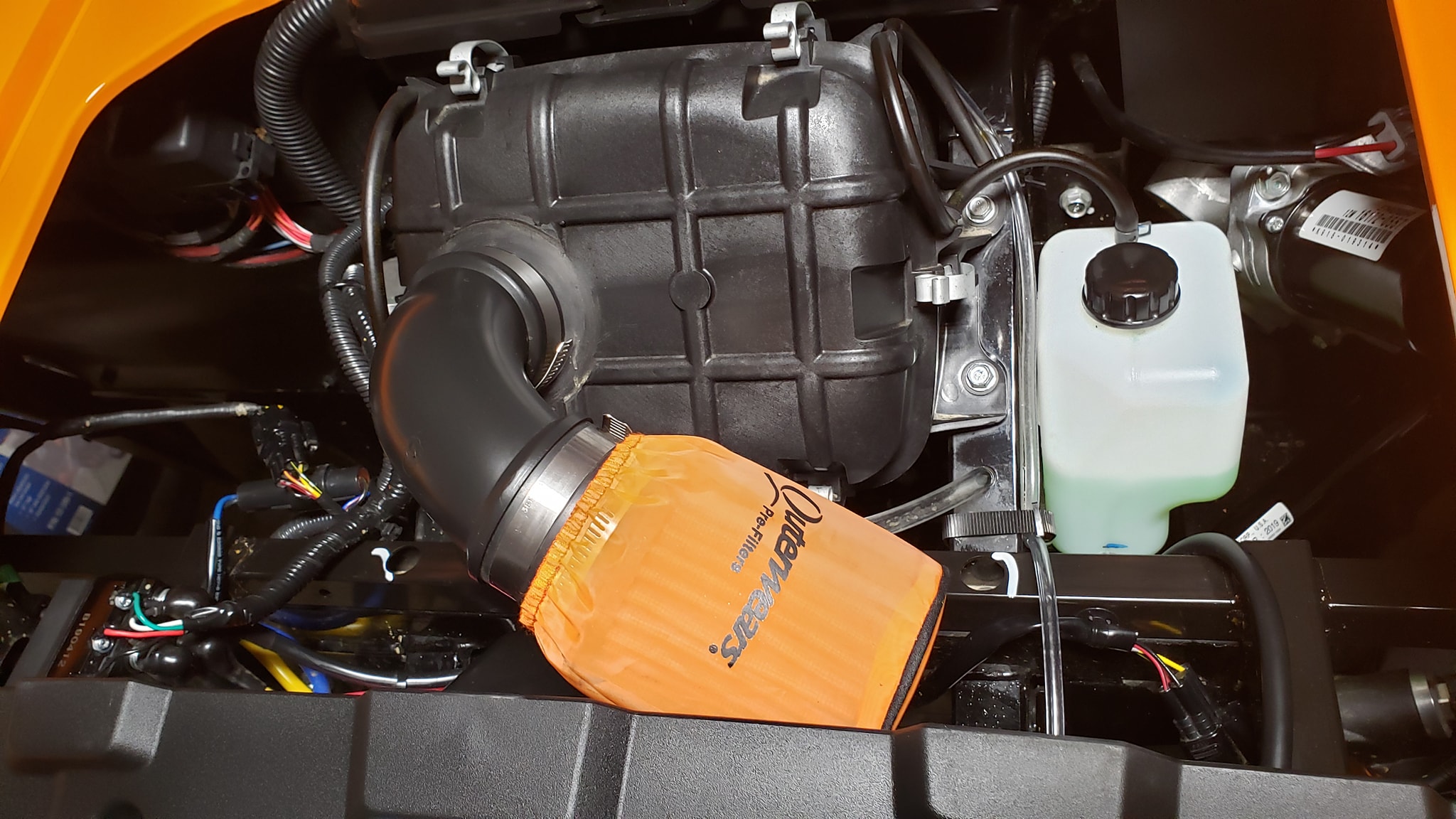 Air Filters And Particle Separators For The Kawasaki Teryx
Whether you've got a Mule or a Teryx, if you use a foam filter, you must make sure to keep it well cleaned and well oiled. The OEM Kawasaki Teryx air filters are paper and dry, whereas the foam air filters by UNI need to be lightly oiled with something like Maxima oil, PJ1 spray, or K&N air filter oil.
Dry / media R2C filters are popular replacements for the stock Kawasaki Teryx air filters. Not only are they washable and reusable, but they're also capable of blocking over 99.99% of fine dust, sand, and silt particles. Even though R2C air filters are dry and locked in place with clamps to ensure a tight fit, you should still apply a little grease around the throat of the filter before installing it. While you might see a slight dust ring between the filter tube and the intake tube, no dust will be able to get past the filter. And when it comes time to clean your R2C air filter, all you need is some synthetic dry filter cleaner like the spray-on air filter cleaners by Moose or the air filter cleaning kit by K&N. Wash the filter off, let it dry, reinstall it, and then you're good to go!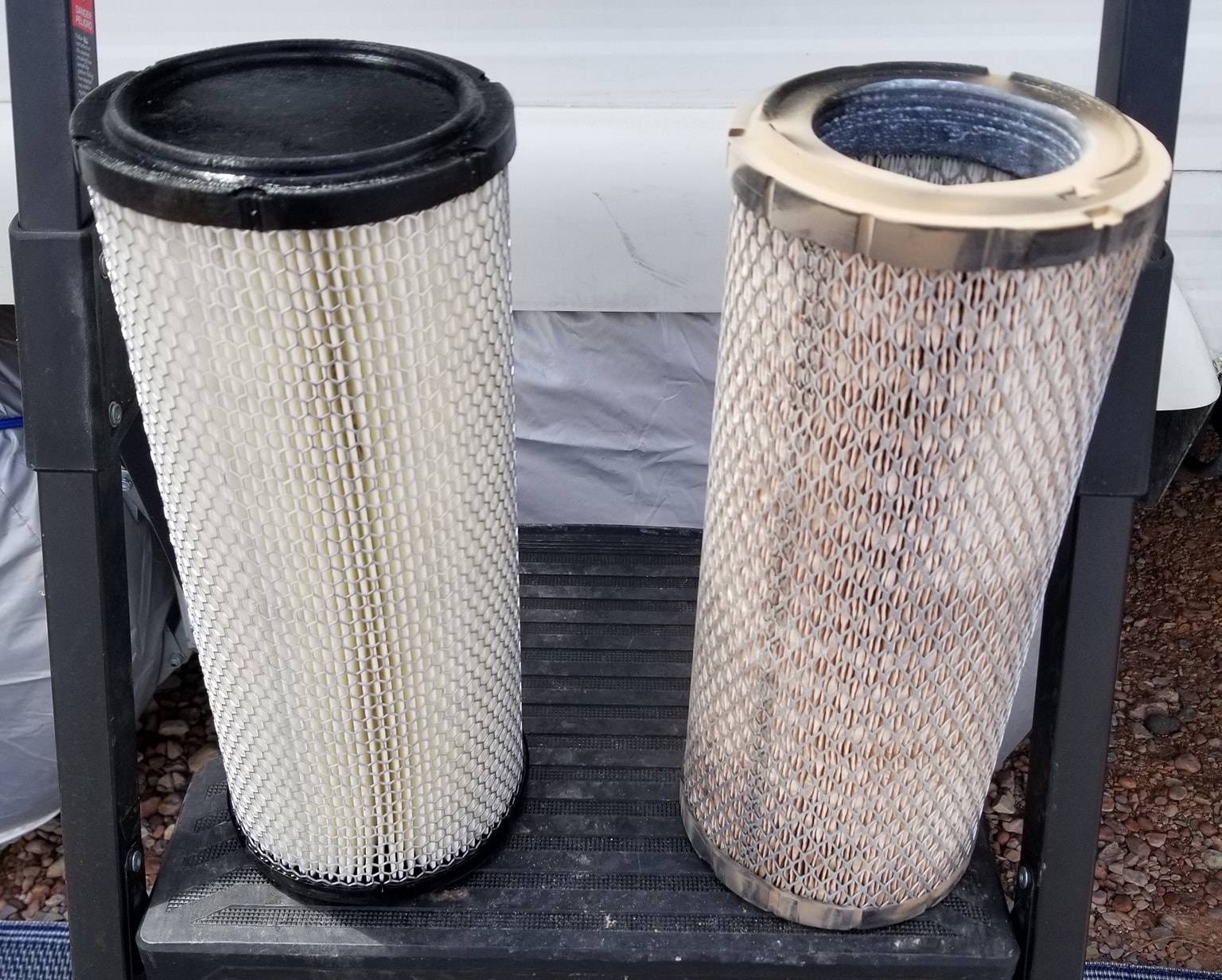 With regards to foam Kawasaki Teryx air filters like the ones by UNI, you don't need to worry about housing, clamps, or anything else – it simply fits like the OEM Kawasaki Teryx air filter does in its factory location. And like with R2C air filters, UNI filters are 100% washable! To clean foam-style filters, start by spraying them with the right cleaning solution and then letting them sit for five minutes or so. After the cleaning product has done its thing, wash the filter off in a sink or with a garden hose from the inside out (making sure to use low-pressure water). In order that the air filter is fully dry, you may want to wait 2-3 days before reinstalling it depending on the humidity levels in your area. For this reason, having two air filters ready to swapped in and out comes in handy!
Air Filters And Particle Separators For The Kawasaki Teryx KRX 1000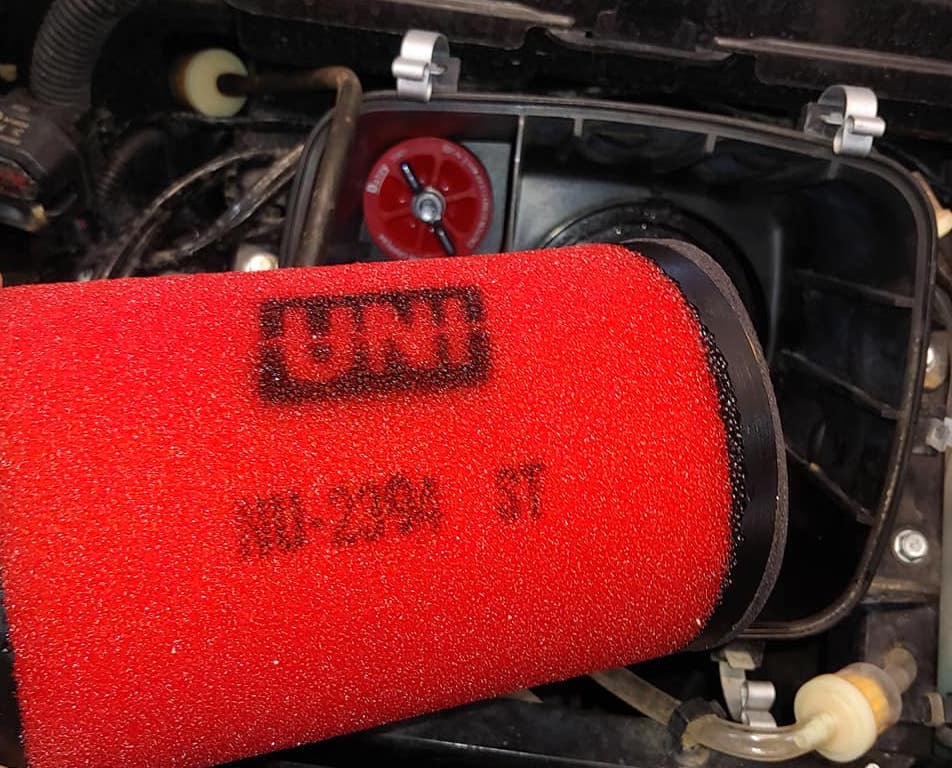 If you install a particle separator on your KRX, you should be fine sticking with the stock air filter and not having to worry about dust. That being said, many riders use UNI filters and R2C filters for the KRX in addition to or in lieu of particle separators. Seeing as the KRX is a $20K+ machine, it's probably worth getting the correct air filter that's purpose-built for the vehicle. While it might be possible to use a 9295 air filter from NAPA or a WIX 49295 air filter, proper Kawasaki Teryx KRX air filters like the ones by All Balls Racing or RCOR will fit spot-on without leaking or causing the the filter access door to bow / bend.
A Closer Look At The Benefits Of Particle Separators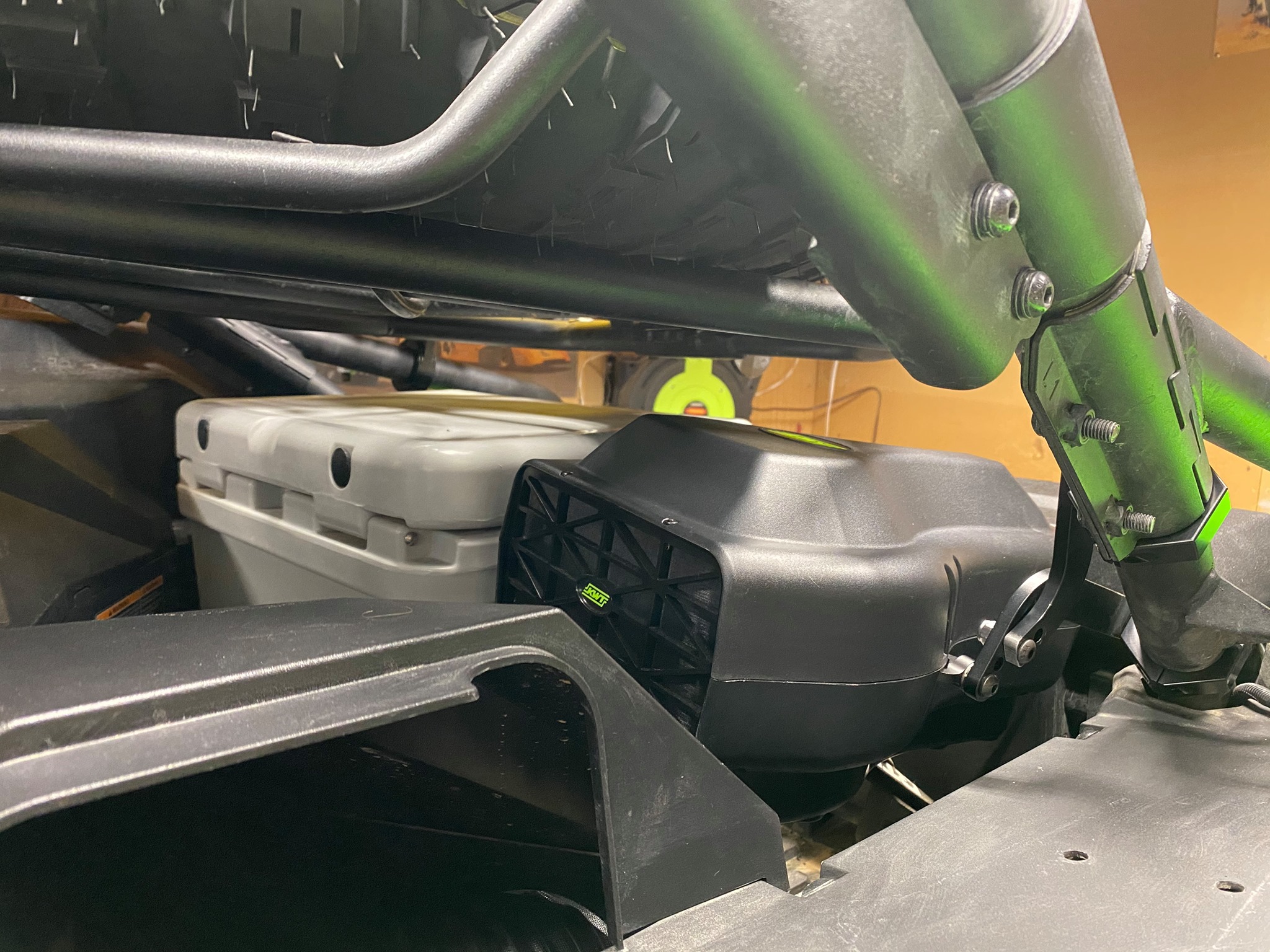 To save you from blowing through air filters, particle separators are great accessories to install on the Kawasaki Teryx, Mule, or KRX. They're perfect for sandy conditions, and will ensure that almost no dust gets to the engine when you're holding it down as the caboose at the back of your group convoy over dusty roads. KWT particle separators are nice, and so too are S&N particle separators. One thing to know regardless of the brand is that your particle separator needs to be mounted level. If it's sitting at an angle, it won't function correctly, as the dirt it collects must be able to drop straight down after it's been spun around and separated from the air.
Final Thoughts On Air Filters And Particle Separators For The Kawasaki Mule, Teryx And KRX
Daily maintenance and monthly servicing can do a great deal to protect and prolong your engine. And be it oil and oil filters or air filters and particle separators, when it comes to life extension, eliminating contaminants is the name of the game! With regards to air filters, you want a product that'll block airborne particles, but not at the expense of airflow. If you restrict the air intake, your engine won't have the oxygen it needs to operate at peak efficiency -- and this is particularly pernicious at higher elevations. So clean your dirty air filters as often as possible, swap out your paper filers when they get dirty, and find all the best Kawasaki Mule, Teryx, and KRX air filter products you need at Everything Kawasaki Offroad!