​Aftermarket Springs, Suspension Upgrades, And Shock Kits For Kawasaki Side-By-Sides
Jul 22, 2021
There are numerous variables that can affect the quality of your ride, and exponentially more variables arise when you start modifying your machine with different permutations of aftermarket lift kits, wheel spacers, and high-clearance a-arms. And while the stock springs, shocks, and suspension systems on factory Kawasaki UTVs are fine for general-purpose riding, they leave much to be desired among riders who use their side-by-sides for specific applications on particular types of terrain. Although Kawasaki has done a decent job at segmenting the market with their work side-by-sides, their mixed-use side-by-sides, and their performance side-by-sides (the Mule, Teryx, and KRX respectively) there is still a good deal of variation between users within each segment. Consequently, adjustable UTV suspension systems have grown in popularity to fulfill multiple different niches, whereby users can tweak, adjust, and optimize settings like preload and rebound to meet their specific needs. But even adjustable shocks are't the be-all-end-all for every rider, which is where aftermarket springs and other suspension upgrades come into play. There's a lot to cover in this topic, so let's dive right in and see what the aftermarket has to offer for Kawasaki UTV owners who are looking for better springs, higher-quality shocks, and overall suspension improvements!
Kawasaki Mule Shocks, Springs, And Suspension Upgrades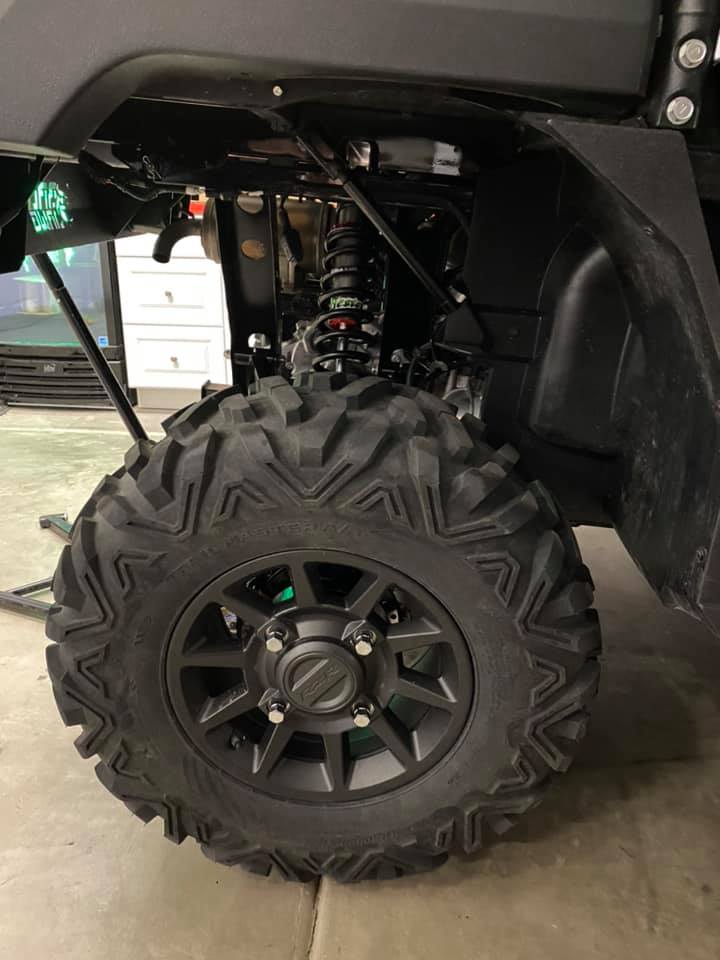 The suspension upgrades you make to your Kawasaki Mule will depend heavily on what your intentions are. A person who uses their Mule as a hunting vehicle will require a different suspension setup than someone who trail rides, and someone who trail rides will likely want things that a Mule used for farming will have no use for.
An easy way to refine your Kawasaki Mule's suspension is to swap out the stock springs for aftermarket HD springs. The S3 Power Spots Kawasaki Mule HD springs, for example, are perfectly suited to benefit those in agricultural / farming industries, emergency / recovery units, as well as military, police, and first responder operations. These Heavy Duty Kawasaki Mule springs aren't lift springs, but they can help you reclaim around 1-3 inches of ground clearance because they don't compress nearly as much as factory springs.
The main purpose of HD springs is to increase load capacity and decrease suspension sag. With an increased spring rate, HD coil Kawasaki Mule springs will not only improve vehicle stability and reduce body roll, but they also allow users to support between 300 and 500 pounds more than factory springs. So if you've got a hydraulic dump bed kit and regularly load your machine down to where the wishbones are sitting level and the rear is dang near touching the bump stops, you'll reap a tremendous amount of benefits from a set of HD Kawasaki Mule springs. Add a spring compressor to the mix (as well as a 17mm socket to unfasten the shock bolts) and you'll have your new springs on in no time!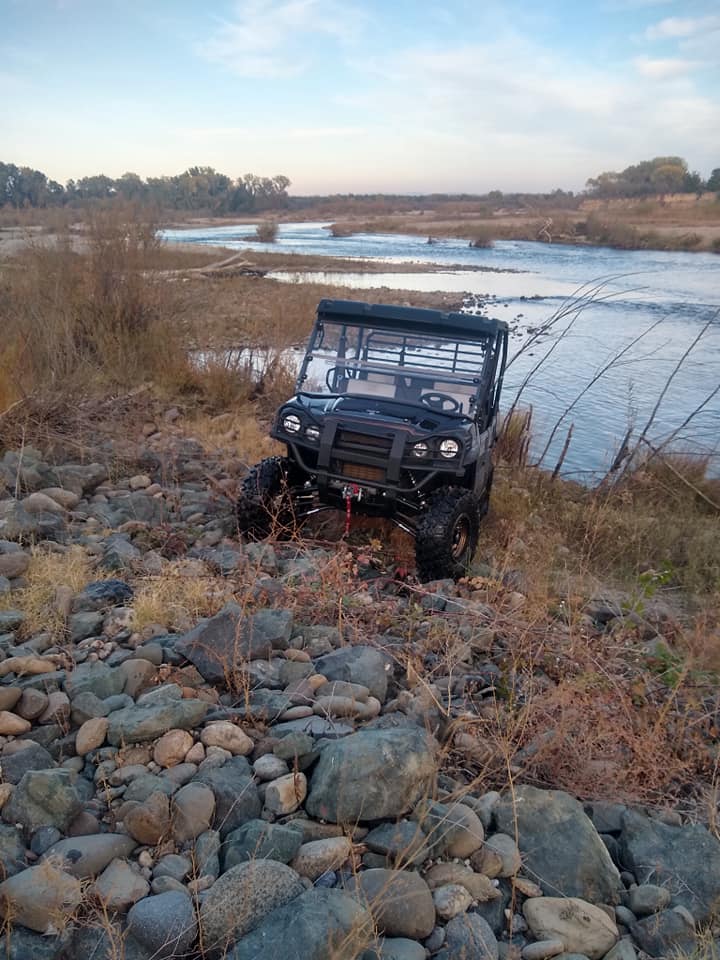 HD springs are great for work machines, but if you find yourself riding primarily for recreation, some aftermarket Kawasaki Mule shocks will likely suit you well. Many shock kits for the Kawasaki Mule are dual purpose, providing both clearance and suspension. And unlike bracket lifts, high clearance suspension setups won't put unwanted stress on your axles.
If you ride a mix of gravel roads at higher speeds, windy trails with stretches of rocks, washboards, and whoops, and hill climb routes with bumps and rollers, your ride will improve significantly with a set of aftermarket Kawasaki Mule shocks like the ones by Elka. Shock kits such as these will make your buggy a good deal more stable when cornering and traversing uneven terrain. Plus, they are super smooth and won't beat you up or buck you around like the stiff factory suspension does.
Aftermarket Kawasaki Mule shocks and suspension systems will also help you avoid bottoming out, and if you're getting bounced around like a trampoline when you ride over rollers, adjusting the rebound of your aftermarket Kawasaki Mule shocks will help your machine settle and stay planted. If you do opt for a set of aftermarket shocks, we'd suggest running them directly out of the box for a couple hundred miles to let everything break in, then you can play with the settings once you're used to them. Adding preload is often done to gain ground clearance, while the rebound speed affects how fast the shocks return to their most-extended position. And with nitrogen-charged air shocks on your Mule, you'll see minimal aeration with more responsiveness and consistent dampening!
Kawasaki Teryx Shocks, Springs, And Suspension Upgrades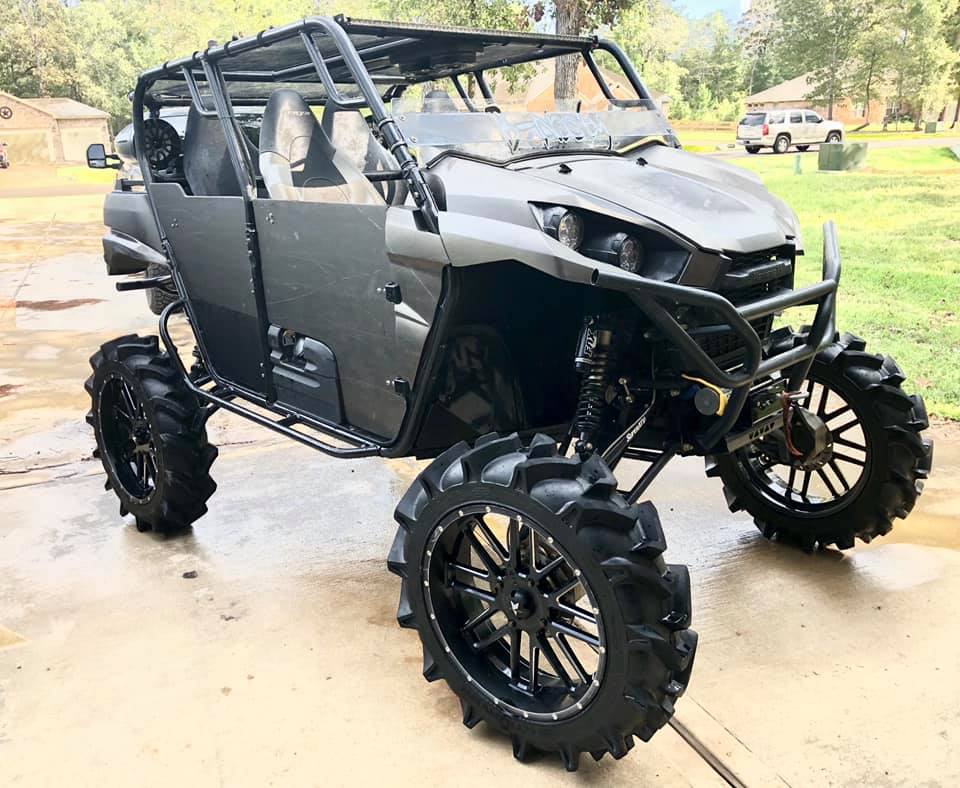 Much of the aforementioned info related to Kawasaki Mule shocks, springs, and suspension systems also applies to the Kawasaki Teryx. Stiffer Kawasaki Teryx springs, for example, will allow for greater load capacities, while aftermarket Kawasaki Teryx shocks typically grant users a higher degree of adjustability. Some Kawasaki Teryx owners choose to rebuild and re-valve their factory shocks as opposed to getting new shocks. But if you want to really smooth out your ride or achieve noticeable performance gains, upgrading to some dual rate shocks or other aftermarket Kawasaki Teryx shocks is essential. Sure you can put new oil in your existing Fox shocks and get work done on the valving, reservoirs, and internal bladders, but this isn't cheap -- and there's only so much you can do to improve the factory shocks.
There are a few good options out there for aftermarket Kawasaki Teryx shocks. Like with the Mule, Elka shocks for the Kawasaki Teryx come highly recommended, and so do Bandit shocks and 814 shocks. Regarding the latter, these shocks are made specifically for trail riders, as they are valved extremely soft. They have rebound and compression adjustments, and are priced reasonably low compared to the competition.
Travel is another factor that should be taken into consideration before popping on a Kawasaki Mule suspension kit. Long-travel suspension kits like those by HCR Racing are often used by dune riders, rock crawlers, and racers to mitigate the effects of rough terrain and reduce the likelihood of bottoming out. Mid-travel suspension is the next level down, which can be achieved in a number of ways. The most common way is to get SuperATV's 6" lift kit, remove the upper shock brackets, then bolt longer shocks by 814, Bandit, or Hester to the factory mounts -- which leaves you with +3 arms on each side, extended axles, and longer shocks.
Kawasaki Teryx KRX Shocks, Springs, And Suspension Upgrades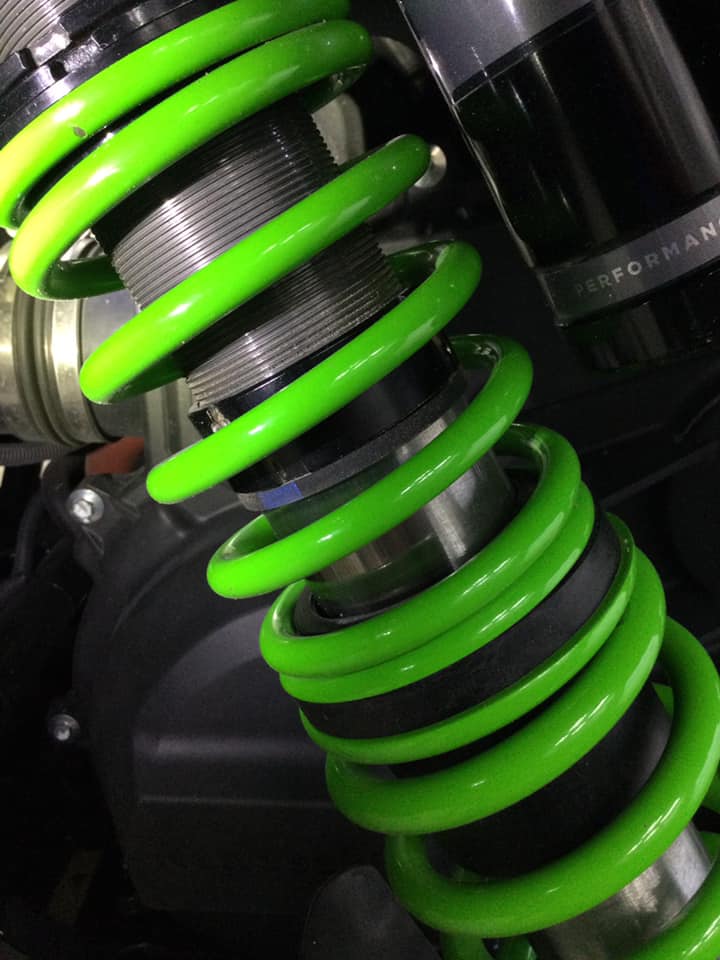 As the performance buggy in Kawasaki's UTV lineup, the KRX comes equipped with FOX's Podium LSC shocks that have fully-adjustable preload, 21 inches of travel, and 24 different compression dampening positions. That being said, the sleeves on the stock Kawasaki Teryx KRX shocks are known to be a bit noisy. You might have tried lubricating them to eliminate the harsh sound, but this doesn't always work. And instead of buying a spring quieting system or shock shields from an aftermarket UTV part maker like PRP Seats, you can instead buy a few cheap frame filters (#PH6017A), take the square o-rings off, then stretch them over the shocks.
Another way to rid yourself of the dreaded crossover clank is to install some Shock Therapy springs. If your stock KRX springs are starting to sag, you can also get replacement tender springs or Bandit Stage 3 springs. Also, if you've run out of threads to adjust your preload ring down, some 3" spring spacers by SuperATV can help you gain more spring preload.
Final Thoughts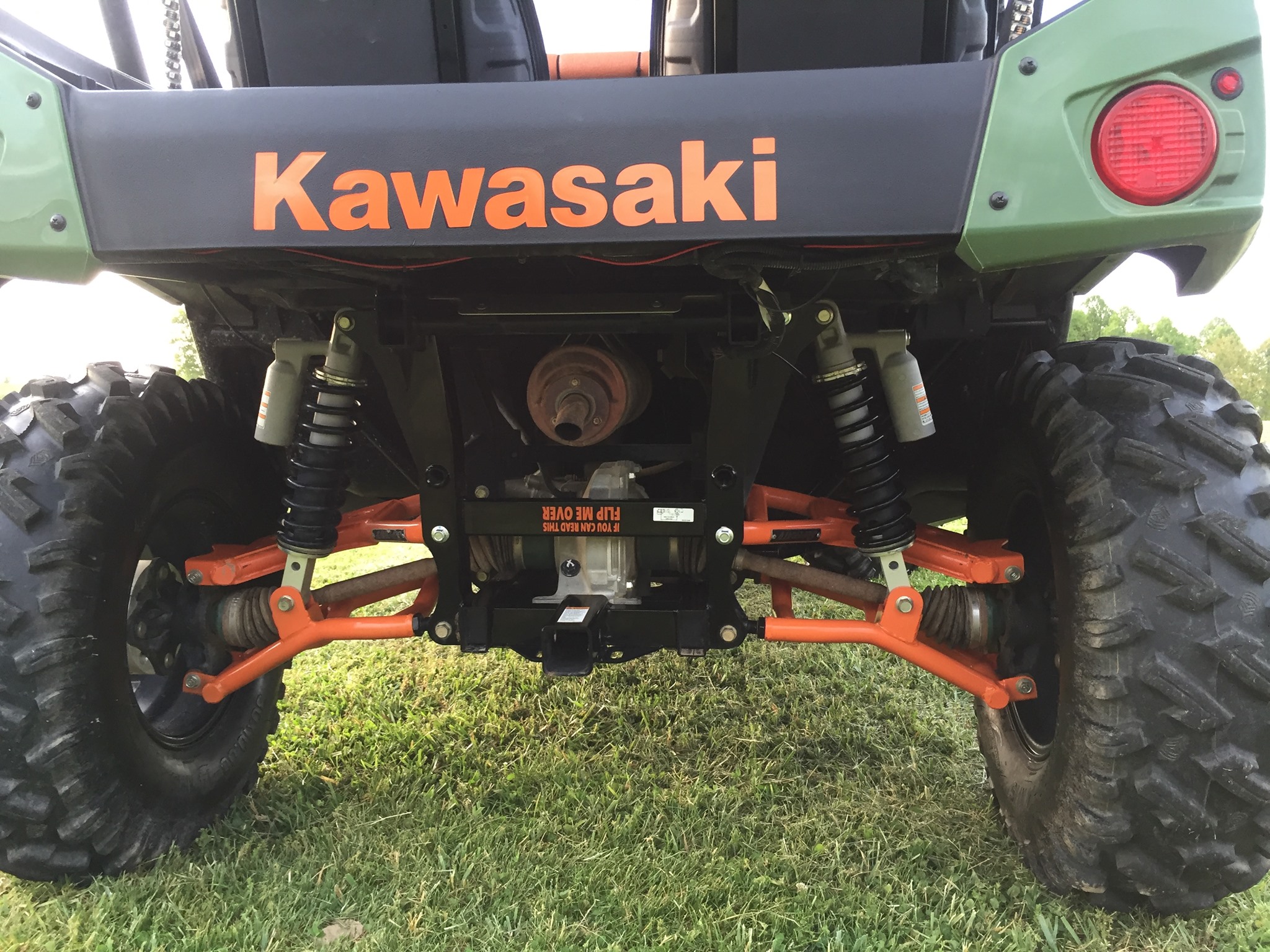 The suspension components of your Kawasaki UTV can make or break a ride. In terms of comfort, aftermarket springs and shocks can improve the plushness of your rig dramatically. And for added clearance, more travel, and greater support, aftermarket shocks and springs are essential. For a versatile ride, adjustable suspension is a must. And to support heavy loads, HD springs are a godsend. But whatever you get into with your Kawasaki Mule, Kawasaki Teryx, or Kawasaki KRX, you'll find just the suspension parts, kits, components, and upgrades you machine needs at Everything Kawasaki Offroad!